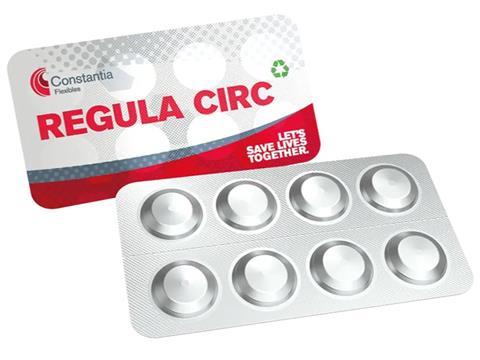 Constantia Flexibles has revealed REGULA CIRC, its 'total barrier', designed-for-recycling coldform foil solution for sustainability-minded pharmaceutical blister packaging applications.
A polyethylene sealing layer is set to replace traditional PVC solutions – a transition aiming to simplify the sorting process, improve the recyclability of the pack and, in turn, enhance material recovery. It is also set to lower the amount of plastic used in the packaging, with increased proportions of aluminium having been implemented into the design.
To preserve the security of the packaging throughout its life cycle, REGULA CIRC is designed to withstand delamination and prevent the product within from becoming contaminated. Protection against moisture, oxygen, light, and gases are all reported benefits; as such, Constantia Flexibles states that the foil extends the shelf life of medications and protects their integrity and efficacy throughout the supply chain.
Meanwhile, it claims to offer high-quality forming performance to maintain the functionality and usability of the packaging. Apparently, itis easily integrated into existing pharmaceutical packaging processes and production lines, which negates the need for additional investments or modifications in the pursuit of eco-friendly blister packaging.
As well as meeting companies' packaging requirements, the pack aspires to adhere to future legislation and regulations regarding sustainable packaging.
Last year, TekniPlex Healthcare claimed to have developed the world's first fully transparent recyclable mid-barrier blister package, which is reportedly compatible with polypropylene recycling streams.
PA Consulting and PulPac also formed the Blister Pack Collective. It sought to phase out PVC blister packs by expanding the use of PulPac's Dry Molded Fiber technology in the pharma, consumer health, and FMCG industries.
In other news, Camvac has unveiled a flexible, multi-layer, metallised laminate utilising the company's patented barrier coating technology to replace standard foils.
If you liked this article, you might also enjoy:
The Lidl approach to packaging sustainability
How did Brazil achieve its 100% aluminium can recycling rate – and can it be replicated in the EU?
Experts have their say on the EU's Packaging and Packaging Waste Directive revisions
A deep dive into the most important packaging sustainability trends and solution