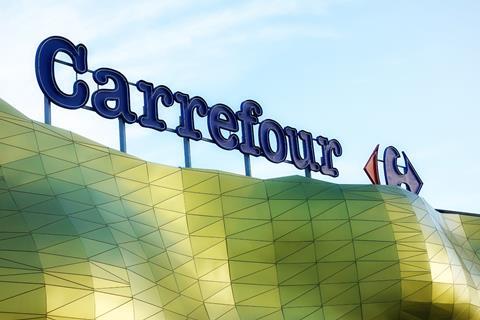 France's leading retailer Carrefour has set out the goal of reaching 100 per cent recyclable, reusable or compostable packaging, while simultaneously cutting CO2 by 40 per cent and halving food waste, by the year 2025. This is a journey of many smaller steps: the business is taking one concrete action towards these objectives every month. Tim Sykes spoke to sustainability director Bertrand Swiderski about Carrefour's packaging strategy and the role it is playing the launch of the Loop online shopping concept.
"When we think about sustainability, we need to take into account the consumer's point of view, otherwise the market will reject what we are trying to achieve," proposed Bertrand Swiderski. As such, Carrefour has responded to its customers' green wish list in several respects: it recently committed to stop selling plastic straws; in 2018 it took the commitment to remove packaging from all organic products; and its involvement as Europe's first retailer partner in the Loop platform (launched by TerraCycle) is a nod to demand for reusable packaging.
"Reusable packaging is more appreciated by customers than single-use packaging," Bertrand commented. "The trend is towards removing disposable packaging where possible, as there is grave concern about waste. By end of June this year consumers will be able to come into Carrefour stores with their own containers for fresh products."
Meanwhile, the goal of halving food waste by 2025 has seen price reductions in before best before dates and unsold food being donate to food banks (which have been the recipient of 164 million meals in 2017). Is there a tension between the elimination, respectively, of disposable packaging and food waste? For instance, it's a frequently quoted statistic that plastic wrapping extends the shelf-life of cucumbers from three to fourteen days. Carrefour has taken the step of removing plastic from its cucumbers.
"When we analysed the function of cucumber packaging in practice, we found that it was mainly being used to prevent contamination rather than extending shelf-life," Bertrand explained. "Therefore we eliminated what we regarded as unnecessary packaging. However, it's our policy to follow empirical data. If we find we are wrong about something (for instance cucumbers), we go back and change our policy. Removing packaging isn't possible with all product applications. The point is that we have to find the appropriate balance between food waste and packaging waste."
Loop
Earlier this year, Carrefour made headlines as the French retail partner and enabler of Loop – the new online shopping concept based around reusable packaging. Running the French pilot through its own e-commerce channel, Carrefour will be offering around 100 products, including 20 of its own private label organic products that use glass packaging, alongside those of international brand owners.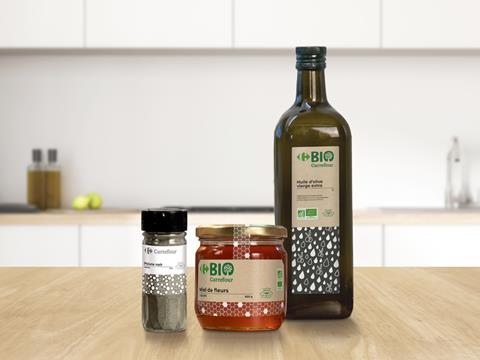 "We are inviting our suppliers to work on packaging innovations for Loop," Bertrand told Packaging Europe. "Such packaging must meet four criteria to be considered. It has to deliver higher quality or a luxury experience in relation to disposable packaging; it must be more convenient for the customer and reusable up to 100 times; and the product must be cheaper over the whole lifecycle."
Carrefour will be responsible for managing the Loop supply chain in France, handling delivery, customer services, and collection of empty packaging at the same time as delivering new products. The pilot will commence on a small scale in the Paris region, with a view to quickly applying the lessons learned. "We're treating this like a start-up," Bertrand remarked. "We are ready to move fast and accelerate., we can develop this by testing out new ideas, e.g. maybe we'll try a pop-up stores or extend Loop to drive-through formats, which are more prevalent outside Paris. We can approach this in an agile way: it's a very different mindset for a such large company."
Visit www.carrefour.com/content/combating-waste for full details of Carrefour's sustainability commitments.