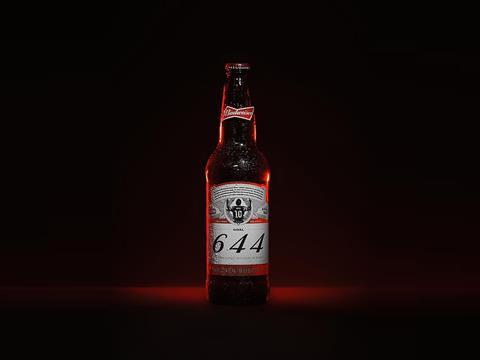 AB InBev has celebrated Lionel Messi's record-breaking 644th goal for Barcelona – the most goals for a single club in the history of professional football – with a limited run of 644 Budweiser bottles.
The specially designed labels were developed using direct object printing and numbered from one to 644 to represent every goal scored in Messi's club career to date.
AB InBev, through its Global Innovation and Technology Center (GITEC), first brought its in-house direct object printing capabilities to market in 2019 for a limited run of Beck's Artist Series.
The technology enables printed bottles to have ink and varnish applied directly to the glass to give a 'no label' look, and has the capability to print variable or unique artworks on the bottles. The technology can also handle digital embossing, giving a tactile effect.
Each one of these limited-edition Budweiser bottles will be gifted to the goalkeepers Messi has scored against, including greats such as Gianluigi Buffon, David de Gea, and Jan Oblak.
The bottles, which will also have a limited retail run with standard label decoration, are marked with several unique flourishes including a "Messi King of Football" tag and a revamped version of the Budweiser creed that includes a special tribute to the qualities that have characterised his monumental career.
Gregory Bentley, global packaging innovation director at AB InBev, commented: "This project shows the valuable role of direct object printing in creating truly limited-edition, premium bottle designs – each one is unique and near impossible to replicate.
"The team did a great job of executing the 644 unique bottle designs in a matter of days in our Digital Object Printing lab, while also observing COVID-19 restrictions and social distancing.
"Although the technology is still in its relative infancy on a mass scale, momentum is certainly growing in digital printing methods and we're learning a lot and enjoying these special, one-off projects that can mark cultural moments, like Messi's amazing world record."