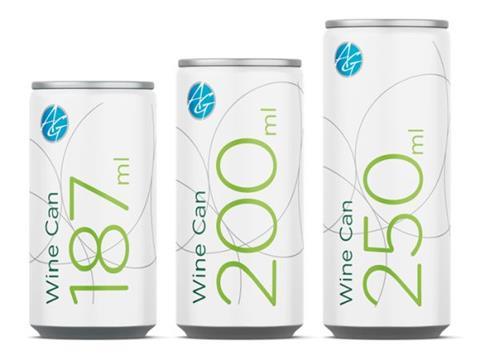 In what the company describes as a Europe first for beverage packaging, Ardagh is introducing a new slimline 187ml can specifically designed to present and protect wine and wine-based drinks.
With its special design characteristics and unique sizing, the new can, set to launch in Q1 2020, is the latest addition to Ardagh's pioneering Wine Can range. Its capacity is a personal wine serve of 187ml – quarter of a standard 75cl bottle, and an attractive option for the increasing number of consumers who wish to enjoy a single drink with a meal or while on the go. The new format will allow wineries to sell single-serve canned wine in new markets and in channels, supporting category growth. For the first time European wineries will be able to sell canned wine in the USA in single packs by using the new Wine Can format.
Canned wine consumption continues to grow worldwide. The global wine-in-can market is estimated to reach 366 million units by 2022, according to Euromonitor. To serve this growing demand and to comply with international wine packaging regulations, Ardagh recognised that a new format was needed, and has worked across its manufacturing, R&D, engineering, sales and business development teams to come up with the innovative design.
Made of fully recyclable aluminium, the can is airtight, lightproof and shatterproof – and, in this new design, both the can end and body feature unique specifications to protect the quality of the wine throughout the filling, transportation and storage lifespan. Next to Ardagh's Wine Can filling parameters and compatibility testing, these specifications guarantee the safety and flavour of the wine from canning to consumption.
Adriana Escobar, Product Manager at Ardagh Group's European Metal Beverage division, says, "Our customers trust Ardagh's Wine Can design and technical expertise, as they know our superior specifications will serve to guarantee the quality of their products. We're always looking to innovate to meet changing demand and open up new markets for customers, so we're proud to be announcing the new 187ml format."
The new Wine Can format can be further elevated with Ardagh's multiple decorative options. Customers can for example use different Coloured Tabs to distinguish between a red, rosé and white wine or enhance the visual appearance of the can by adding a matte finish.
Until now, single-served European wines have been mostly available in bottles, boxes or multipack cans in the USA, so the single 187ml can will make this market newly accessible, with canned European wines available in single serves at airports and stations, at outdoor events, or to complement casual dining. The efficiently stacking slimline format is also perfect for retailers, catering business, and petrol stations whose space for storage and display is limited, meaning many outlets will be able to offer single serve canned wine for the first time.
As a convenient, portable and sustainable option for canned wine and wine-based drinks, the slimline can will be particularly attractive for a growing market of younger wine drinkers who are keen to try new varieties without committing to a full bottle or multipack, and who are increasingly aware of packaging sustainability issues as part of their product choices.