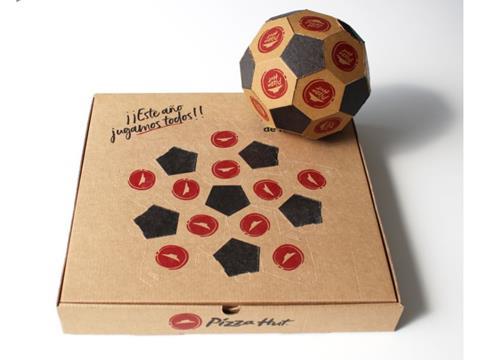 Under the scope of the World Cup, DS Smith's display and packaging units worked in close collaboration with Pizza Hut in Portugal, to provide a second life to pizza packages during this period.
The new, special edition pizza boxes (medium, large and extra-large), had a built-in puzzle/ball, allowing those who bought two pizzas to construct a ball with the two detachable covers from these new boxes. Based on the fact that these pizza boxes could do more than just deliver pizzas, DS Smith developed this solution, which allowed Pizza Hut to communicate a brand message and stand out in an active and differentiating way within this specific time frame.
This special edition of new boxes provided customers with an experience which was both fun and educational, engaging them on an emotional level. In addition to the fun that a puzzle provides, bringing friends and family together, the concept also aimed to offer a moment of relaxation while assembling the puzzle, especially after such a stressful situation as a football match!
The solution provided by DS Smith combined innovation and sustainability. The packaging specialists at DS Smith worked in partnership with Pizza Hut to extract the maximum benefit from its 100% recyclable cardboard packaging, giving it a new purpose and functionality, and avoiding its disposal immediately after its primary use was fulfilled.