As the digitally printed packaging market hesitates to go fully mainstream, a potentially disruptive option for market entry has been quietly establishing itself. Tim Sykes visited Memjet's San Diego headquarters to learn about its low cost / high quality proposition.
For the uninitiated, Memjet's unique technology is based on pioneering work by Australian Kai Silverbrook, who essentially reimagined the digital printhead with a nozzle density and head width that far surpassed everything else on the market. Memjet's core technology is characterised by low equipment and running costs, small drop sizes for optimised ink usage, and up to 5x redundancy for low intervention.
Having launched its VersaPass aqueous dye-based, single-pass digital print system in 2009, the DuraLink modular print system with pigment ink in 2017, and a next-generation system with a newly designed thermal inkjet head – DuraFlex – ahead of this year's LabelExpo Europe, Memjet now has a portfolio that can support a wide range of packaging and labelling requirements, including the ability to stitch together multiple printheads for wide formats. Helping to power affordable, simple but powerful entry-level press systems with speed and quality as an alternative to large investments in complex equipment, the company views itself as at the forefront of developments that will drive the future of digital label printing.
"There's very little data capture around what's happening in e-commerce fulfilment, and I'm not sure anyone really knows the volume of digital printing that's going on there"
Bigger than we imagine
For Donald Allred (Memjet's VP Packaging, business development) digital print is all about switching perspective from a cost game to a value game.
"The supply chain efficiencies associated with digital printing (just in time production, reducing stock, eliminating the need for plates) is something everyone knows," he told Packaging Europe. "What I think really gets these early adopters excited isn't the savings they can make, but how much additional revenue they can generate by adding value. For a long time, many printing businesses have focused on slimming down costs to carve out a bit of extra profit. For me the exciting thing is to challenge them to shift mindset and think about how much money they can make."
The two packaging market drivers that support the case for a more bullish attitude are the irresistible growth of e-commerce, on one hand, and promotional activities within bricks-and-mortar retail on the other.
"With all the data they collect, brands know who they are selling to, enabling them to customise and to market additional services," Donald remarked. "E-commerce fulfilment businesses can get a premium for being able to add branding and promotion on white boxes. Customers with big ambitions for e-commerce growth will see it as a no-brainer to do this if it costs 25 cents a box and the product sells for 100 dollars."
Within the arms race of traditional, in-store retail he sees ever growing pressure to run regular promotions: "If brand managers are aggressive about their sales, they'll be proactive in doing whatever they can to drive them. Everyone likes to have a five-year plan but sometimes you have to react in six months – this pressure is going to drive demand for digital print."
Naturally, some printers embrace the paradigm shift away from margins to adding value, along with its connotations, more readily than others. However, Memjet believes that the modest investment implications of a press powered by one of its printheads – the capital outlay could be as low as $125,000 – makes it much easier to enter the market and learn how to leverage the opportunities of digital print.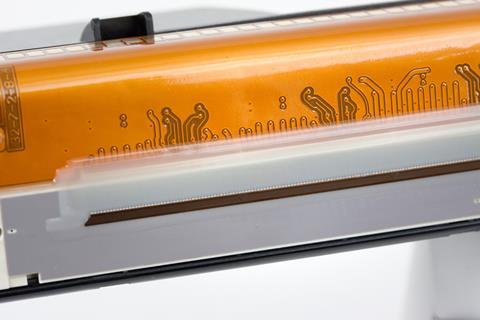 In fact, Donald suspects the transformation may be more advanced than the industry has realised. The inroads made by digital print may be bigger than we imagine.
"The statistics don't necessarily reflect the true extent, since to my knowledge most the data we have derives from the promotional applications – the mass versioning – which tends to be handled by the traditional converters," he said. "On the other hand, there's very little data capture around what's happening in e-commerce fulfilment, and I'm not sure anyone really knows the volume of digital printing that's going on there. What I do know is that a lot of our printheads are going into these applications."
Into the marketplace
As the technology gradually penetrates these markets, Memjet's strategy is characterised by flexibility toward commercial models – following the principle that 'we don't make money unless customer makes money'. The leaders of the business are also palpably excited by the partnerships with OEMs who apply Memjet technology to fulfil revolutionary new capabilities.
For instance, France-based MGI Digital Technology applied a Memjet DuraLink inkjet printheads, ink and modules to create the AlphaJET B1 Inkjet Printing and Embellishment Press: a five-colour digital printing system that offers decorative special effects such as 2D/3D UV dimensional textures and variable embossed foil. It's a solution that consolidates usually disconnected operational workflows such as primer coating, printing and embellishment into what is essentially an all-in-one industrial print factory.
"MGI is a great example of how our technology is enabling other people to go out and use their imaginations," commented Donald Allred. "Our printhead is easy to integrate, meaning the companies we deal with don't have to be printing experts. What they need is a vision of a customer requirement that needs to be met."
He continued: "I'm a big believer in applying technology in the spot where it's most suited. To me this suggests there will be a lot of hybrid applications – whether that is a multi-function printing-coating solution, or adding die-cutting, or some analogue printing systems. This fits very well into the high-volume point of sale promotions. And for e-commerce there's a great opportunity to combine digital printing with automated fit-to-size box makers."
Sales cycles are lengthy but we are now beginning to see years of R&D and business development come to fruition, with more and more Memjet applications in the marketplace. At this year's LabelExpo, for instance, Memjet partners included UPG, Rigoli, Lemorau, VIP Color, Printing Innovation, Astro Machine Corp, New Solution, Afinia Label, and PCMC.
The next generation
LabelExpo was also the first showcase for DuraFlex, the latest advance in Memjet's technology – a modular, single-pass print solution. This is claimed to combine Memjet's generic USPs of speed, simplicity and affordability with enhanced durability, A4 and A3 plus widths that can be stitched up to 1.2 metres, in a four-colour printhead, a high-speed data path and modules that control all printhead functions. Together, these features are intended to extend to OEMs the resources to create affordable benchtop, mini-press and entry-level presses capable of quality and speed previously not available in these types of solutions. With 1600 x 1600 dpi and built-in nozzle redundancy, DuraFlex is claimed to deliver market-leading print quality at print speeds up to 46 m/min.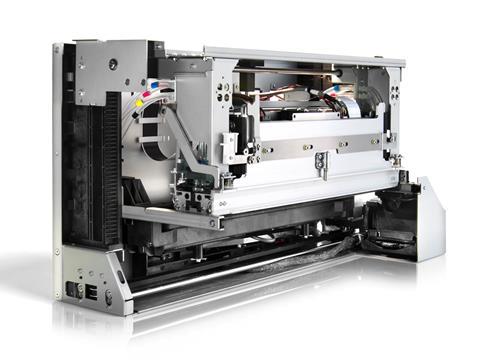 DuraFlex is conceived as a resource that fits strategically alongside its existing VersaPass and DuraLink platforms, adding a pigment ink solution to the dye ink solutions provided by VersaPass. Memjet believes that thanks to this addition, it now possesses the technological range to power any type of digital printer in the market.
"By simplifying the development process for our OEMs and offering outstanding image quality as well as performance, DuraFlex solves OEMs' most pressing challenge: getting affordable printing solutions to market faster without sacrificing the quality and speed users demand in these rapidly evolving print markets," commented Kim Beswick, general manager of Memjet's benchtop and mini-press division.
In a packaging marketplace that has appeared perfectly shaped for digital print but has so often proved sceptical about ROI, these are bold claims – and Memjet's promise of affordable agility is a potential game-changer. We should very much watch this space.