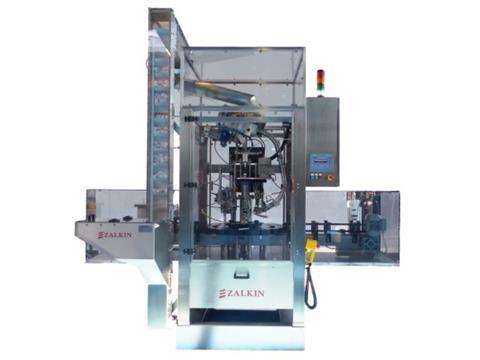 Zalkin, powered by Pro Mach, introduces the TM300 FILLCAPP, a single-head stand-alone capper with integrated filler at Interpack, May 4-10, 2017, in Hall 14 at Stand E31. This compact machine conserves valuable packaging line floor space as it eliminates the need for a separate filler, conveyor, and capper.
A single-station TM300 FILLCAPP can automatically fill and cap up to 30 containers per minute (CPM) and up to 60 CPM for two-station models. This cost-effective, rugged machine features quick changeover, fast clean-in-place, and superior fill accuracy for brands and copackers in the food, beverage, spirits, personal care, home care, automotive, and chemical industries. Ideal applications include small volume containers ranging from energy drinks to mini bottles of distilled spirits to travel sized personal care products to extracts, condiments, oils, and much more. The price point and productivity of the TM300 FILLCAPP can lead to a fast return on investment.
The TM300 FILLCAPP delivers precision filling – rated between +/- 0.25 to 0.5 percent of volume for a wide range of product viscosities. Filling nozzles support:• Top-fill for light to semi-viscous liquids with and without particulates• Bottom-up fill for semi-viscous to viscous and light, foamy liquids• Level overflow for light products with fill to level• Top-fill/ball valve for large particulates
A host of filling measuring devices are available, including volumetric pump, Coriolis mass flow meter, magnetic flow meter, net weight scale, overflow nozzle, and piston. There is a zero-drip vacuum collection system and inclined top deck with gutters and drain. A single handwheel adjusts height for both capper and filler for fast changeover.
The capping system features a cap head with hysteresis magnets and easy setting for torque and top load. Changeover of cap chucks does not require tools. The TM300 FILLCAPP has an integrated cap elevator and sorter and the small footprint monoblock incorporates within its compact frame a filling table, liquid supply tank, cap handling systems, human machine interface (HMI), and electrical and pneumatic panels. The welded 316L stainless steel frame enables long years of service and a stable low-vibration platform for filling and capping.
The TM300 FILLCAPP applies screw, roll on pilfer proof (ROPP), and push on caps for greater versatility and flexibility. It fills and caps glass as well as plastic bottles and accommodates container diameters up to 128 mm (5 inches). It can also be integrated with other systems, including induction sealing.
"The TM300 FILLCAPP is the first integrated filling/capping solution at up to 60 CPM with this price point and extensive feature set," said Pro Mach Bottling & Capping Group Senior Vice President Doug Stambaugh.
The TM300 FILLCAPP is the first in a series of solutions slated to come from the new Zalkin global one-stop-shop for inline and rotary capping machines ranging from 15 to more than 1,000 CPM. This continuum of machines stretches from Beltorque models for low to high speed pharmaceutical applications and Pack West models for low to moderate speed food, consumer, and industrial applications all the way to the highest speed Zalkin capping solutions."
More info: