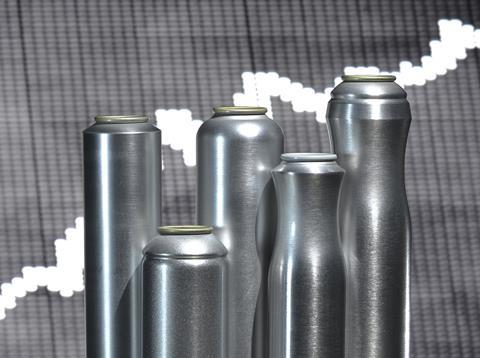 In the first half of 2017, the members of the International Organisation of Aluminium Aerosol Container Manufacturers (AEROBAL) delivered an impressive 2.9 billion aluminium aerosol cans world-wide. That means the output is more or less at the same level as 2016, a year that ended with record results for the industry.
"We are right on course once again," AEROBAL Secretary General Gregor Spengler noted, adding that he was satisfied with another superb performance by aluminium aerosol cans on international packaging markets. "The trend for deodorants was especially favourable. Growth there reached a good five percent in the first half of 2017. Unfortunately, we did not expand at quite the same rate with haircare products and shaving cream. Both segments were down from their mid-year level last year."
The lion's share of total production, about 80 percent, continues to be used for body care and beauty products. The pharmaceutical sector, the food industry and the markets for household and chemical/technical products make use of the remaining 20 percent of production output.
Secretary General Spengler said the only drawbacks in the favourable mid-year figures were the higher commodity costs. "First of all, the rising aluminium prices naturally play a role in this regard. But the prices of lacquers, varnishes and printing inks have also increased considerably."
Regardless of this situation, the industry has quite optimistic expectations for the second half of the year. AEROBAL President Eric Frantz expressed confidence that the outstanding results of the previous year can be achieved again in 2017: "The great powers of innovation our industry displays are impressive. The many new product ideas make me very optimistic about the continued success of aluminium aerosols. The wealth of ideas is reflected, inter alia, in the high rate of participation in our AEROBAL Can Award and in the prize-winning cans.
In particular, aluminium has unique characteristics as a material and is perfectly recyclable. Thanks to these traits, aluminium aerosol cans will continue to improve their position in the global packaging market. These trumps are crucial to the high aspirations of the industry to produce sustainable packaging for future generations. Add to that the high quality of aluminium with its fantastic look and feel and its appeal as a premium material that has more and more enthusiastic fans among designers and consumers all over the world."
More info: