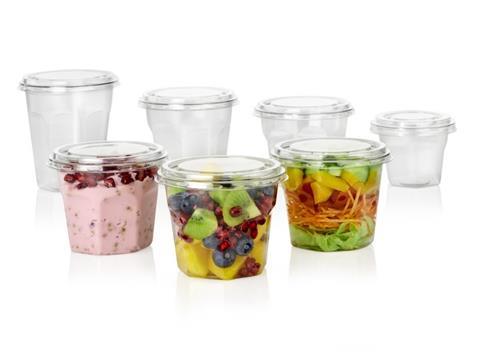 Tri-Star Packaging has launched its most creative next-generation food-to-go pot combining an industry-first shape and high-technology performance with a wistful nod to the past.
The JARR instantly evokes feelings of nostalgia thanks to a creative yet fun-loving shape that echoes that of the traditional jam jar. Not only does this give the rounded, lightweight and transparent JARR great on-shelf presence. It also represents a perfect way to portion control everything from sauces and dips to olives, fruit salads and yoghurt.
In four sizes - with two sizes of lids – at its smallest, the JARR can be used by delis, festival stallholders and food-market operators to give consumers bite-sized tasters or simply a saucy side-order with a meal. At its largest, the JARR pushes style and convenience to new, unbeatable levels for entire meals, topped off with a dedicated re-closable lid for on-the-go ease.
Compact forms maximise shelf space, while the jam-jar shape throws up excellent merchandising options. The JARR furthermore can be customised to the nth degree, with lids coming in different colour options that can be personalised to give the most individualised bespoke charm. This sleek but simple paradigm-shifting design is set to be a game changer for the food-to-go market and makes a unique style statement elsewhere: the JARR pot is a fantastic disposable cocktail cup in clubs.
Flat top and sides are ideal for content information, promotions and label design. This promises precise as well as colourful label application to push on-shelf presence to the furthest levels of creativity. The four sizes, 120cc, 200cc, 350cc and 440cc, ensure even more flexibility with food-to-go retailers' takeaway offers - hugely convenient to both retailers and their ever-more demanding customers. JARR is the latest and exclusive product range from Tri-Star Packaging with benefits that go way beyond its form, convenience and marketing potential. These include ethical materials: the pot is made from recycled PET (rPET) and is itself recyclable. This is excellent news for consumers, who are increasingly concerned about the environmental impact of packaging.
The high-clarity JARR meanwhile is great for product visibility and is stackable to maximise convenience for the retailer. It is also heat sealable, which is a massive plus for food producers, as it boasts ESL (Extended Shelf Life), tamper-proof and food-safety benefits. Heat-sealed film is easily peeled off before use, but the jar can then be resealed with the lid to keep remaining contents fresh and reduce food waste.
Kevin Curran, Managing Director of Tri-Star Packaging, said: "This market has been devoid of innovation and wit for far too long. The JARR represents the next generation of food-to-go deli pot and provides an exciting alternative container thanks to an innovative new shape that blends tradition with high technology. JARR offers outstanding shelf stand-out and is as revolutionary as it is evolutionary."
More info: