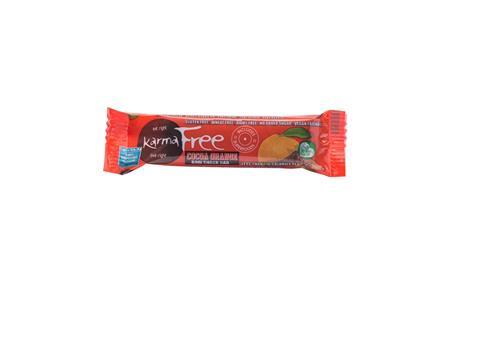 TIPA, a developer of sustainable compostable packaging, has announced a partnership with Shanvalley Innovative Food Company to wrap its range of healthy snack bars. The 'Karma Free' and 'Karma Elevate' product ranges will benefit from TIPA's fully compostable, flexible packaging that offers the same end-of-life organic waste properties as the food it wraps.
Launched in June at Bloom 2017, Ireland's largest garden festival, the Karma Free range is a new series of cold-pressed, fruit and nut bars made from natural ingredients with no added sugar. The range launched with a gluten, wheat and dairy-free raw Cocoa and orange bar packaged in TIPA's fully compostable, flexible packaging films. Further flavours are expected to be announced in the coming weeks.
TIPA's innovative packaging is just as durable and impermeable as ordinary plastic packaging. However, unlike other commonly used materials on the market, TIPA packaging biologically decomposes within just 180 days and becomes a fertiliser for soil, behaving similarly to an orange peel or banana skin.
Speaking about the partnership, Daphna Nissenbaum, commented: "Working with Shanvalley has been a natural fit for the TIPA team. We understand and support the brand philosophy to 'Eat Right, Live Right' and we're excited to see Karma's newest product range roll out in our fully compostable, flexible packaging. We've also been able to help the team review different pack formats to ensure that both their multipacks and single bars are as friendly to the environment as they are healthy for consumers."
Speaking about TIPA's compostable packaging, Declan Gannon, Founder and Co-owner of Shanvalley Innovative Food Company, added: "The move to TIPA's flexible, durable and bio-degradable films further extends our brand promise to 'Eat Right – Live Right'. It has helped us become the 250th company to achieve Origin Green accreditation for our sustainable practices, as backed by the Irish food board, Bord Bia. Making sure our products are socially and environmentally responsible is of utmost importance to the brand and TIPA's films enable us to achieve this."
Available for a wide range of packaging formats and products, TIPA's products currently comprise standalone and printed coextruded high-transparent cast films, which are sealable and printable and typically used for the packaging of fresh produce, bakery and grain-mill products. In addition, its transparent and non-transparent laminate series is offered for a variety of food segment applications such as stand-up pouches, granola bars, potato chips and other snacks, grains and dried foods and vitamins capsules, as well as a range of non-food packaging applications including apparel, bags and pillow packs, and more. The newly-packaged Karma Free and Karma Elevate bars are now being rolled out to Karma's stockists across Ireland, which include cafés, symbol groups, independent stores, health food shops and SuperValu, a supermarket chain owned by the Emerald Isle's largest grocery and food distributor, the Musgrave Group.
More info: