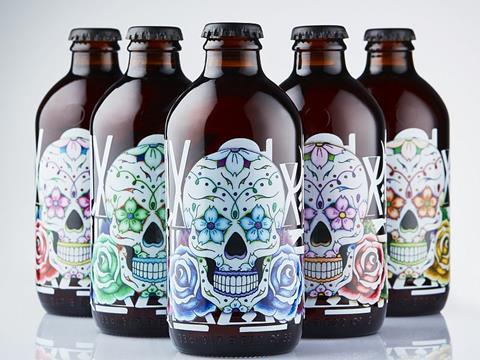 However, boosting sustainability is another key point, as Sharon Todd highlights: "In terms of process, we continue to drive growth in our industry-leading cullet usage and have targeted additional investments to enhance energy efficiency and further improve sustainability performance. A good example is our award-winning sustainable battery storage solution, which provides a reliable source of green energy, and is transforming the way energy is managed at our glass plant in Irvine, Scotland."
As reported previously in Packaging Europe, for O-I the big innovation of 2018 was O-I : EXPRESSIONS, a solution providing game-changing opportunities.
"This is a new, late-stage differentiation service that combines the integral benefits of glass with an agile, marketing-focused capability," Marie-Laure Susset explains. "This innovation makes glass more relevant to more customers by offering an unprecedentedly easy and quick access to customisation and personalisation for glass packaging, enabling them to respond to consumer demand for 'made for me' yet environmentally friendly products. The O-I : EXPRESSIONS RELIEF service, offering digitally printed and coloured embossing has created a real wow effect and has been qualified as breakthrough by many customers."
Focus on resource efficiency
Both Sharon Todd and Marie-Laure Susset underline lightweighting as the way forward.
"Glass remains extremely well-placed to meet brand owners' needs and has a bright future. Lightweighting has delivered significant benefits over many years and continues to be a focus," says Sharon Todd.
"An example of lightweighting can be found in O-I's recently published CSR report update: Adnams, a brewer based in Southwold, UK, wanted to reduce the weight of their bottle," Marie-Laure Susset adds. "O-I's team collaborated with Adnams to produce a lighter weight yet still embossed, branded beer bottle. O-I was able to take 19g off the brand's market leading bottle, removing 115 tonnes from the glass waste stream annually. This lighter weight bottle has now become the standard weight for the majority of the 500ml ale beer bottles produced at O-I's Harlow plant."
She also highlights the role innovation has played across the industry as a whole: "As an industry, in the past decade alone, we have made significant investments in upgrading glass plants to be more environmentally friendly, as well cutting our CO2 emissions by 70 per cent. We have also managed to make glass bottles 30 per cent lighter than they were two decades ago, without sacrificing product preservation, recyclability or design."
Despite all the innovation, the industry seems to understand that public affection for glass is rooted in ageless characteristics that respond to some of the core desires of today's consumers. "Glass is 100 per cent recyclable, inert, safe, fits well within the circular economy model," Chris Todd concludes. "Yes, it is heavy and might break if dropped, but it is a material that is used to present a positive, responsible image by our customers and consumers."