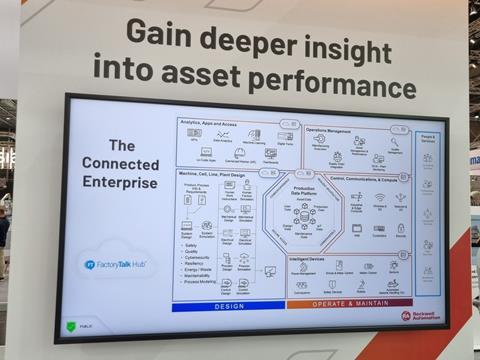 The traditional automation pyramid divides production systems into the field, control, supervision, management, and enterprise levels, with each being handled independently from one another. Computer-aided design (CAD) automates the design process through the creation of two-dimensional illustrations or three-dimensional models; product lifecycle management (PLM) and enterprise resource planning (ERP) contribute towards resource management for both the product itself and any data relevant to it; and a manufacturing execution system (MES) can monitor, document, and track a production process from the raw material to the finished product.
Now that digitalisation is on the rise, technologies like edge, IoT, and augmented reality are breaking this structure down into a collaborative network known as the interconnected lifecycle model. Stages of an automated production line are linked together through the seamless data flow of the digital thread, meaning that each responds directly to the requirements of the stage before or after it.
As such, Uwe Kueppers, manager at Kalypso, a Rockwell Automation company, stresses the importance of dismantling the automation pyramid. When providing an energy demand forecast, for example, the energy source is on the plant floor at Level 1, the relevant regulation overarches the entire company at Level 4, and contextualisation comes from management at Level 3 – the stratification of the pyramid compromises the speed and complexity of this process, as well as the crucial interconnection of details needed to measure energy consumption and carbon footprint at each point in the production process.
Beginning with idea creation and carrying through the digital thread in design, sourcing, and research and development, an interconnected lifecycle model looks towards optimal quality, productivity, and asset utilisation with the lowest emissions and carbon footprint possible. Many companies in the packaging industry aim to optimise their processes, predict their energy usage, and drive digitalisation in their production lines to meet such internal targets as achieving net zero by 2030, and Rockwell Automation is providing the necessary service and technology to achieve this.
In one partnership, it is supporting Italian packaging manufacturer Universal Pack through the programming, testing, and validation processes for its complete automatic lines in the production of automatic sachet machines. Particularly in the development of recyclable and compostable laminates – which come with their own challenges on traditional machines due to their differing elastic, physical, and chemical properties – Universal Pack's material research department brings together technology vendors, material suppliers, and customers to share knowledge and optimise its packaging solutions in pursuit of the sustainably-minded designs of the future.