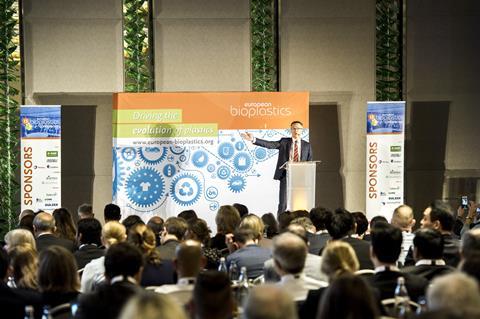 Overall, the global market for bioplastics is predicted to grow by roughly 25 per cent over the next five years. Packaging remains the largest application with almost 65 per cent (1.2 million tons) of the total bioplastics market in 2018. Geographically, one fifth of today's production is located in Europe but this share is predicted to grow to up to 27 per cent by 2023. This trend is reflective of regulatory support across several European states, such as Italy and France, but also the unfolding EU strategy.
"The EU initiatives of the past years aim to promote the circular economy through innovation and to rethink the current plastics system to harness its benefits while overcoming its drawbacks, such as marine pollution," commented Michiel De Smet of the European Commission's Directorate-General for Research and Innovation at the conference. "In connection with the updated Bioeconomy Strategy and the UN Sustainable Development Goals, the EU is supporting the transition from fossil feedstock towards renewable alternatives".
Within the industry, there's a shared sense that the winds of top-level strategy are blowing in a favourable direction. "The joint efforts of the European member states and institutions to create a circular plastics economy have sparked increased innovation activities within the bioplastics community," said François de Bie. "The intense debate about the future of plastics in general has created many opportunities for bioplastics to facilitate the transition to a circular economy. Environmental assessments, rethinking product design, sound and diverse end of life solutions… bioplastics are more than simple substitution, but exert a creative, evolving influence at different steps of the value chain. The bioplastics industry is well positioned to offer additional end of life options that help reduce both litter and CO2 emissions."
As the CPG value chain comes to terms with its multiple environmental challenges – climate change and resource efficiency, plastic waste and reliance on fossils, it seems that polymers derived from biomass will indeed become an ever more important ingredient in our packaging mix.