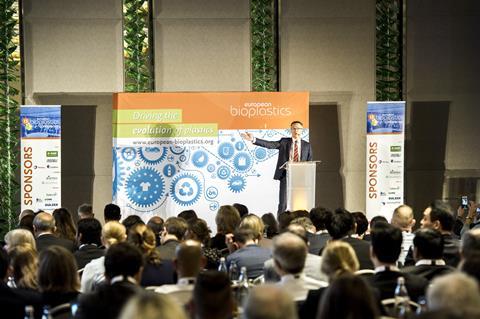 "Biomass is the key ingredient that a plastics circular economy must rely on," stated Stephen Wetmore of WWF South Africa at this year's European Bioplastics conference. The vast majority of delegates came to Berlin already committed to the proposition that bioplastics are the logical conclusion to the plastic waste problem that has dominated the agenda in 2018, and as such it was perhaps appropriate that the conference agenda was preoccupied with issues around end of life. Tim Sykes reports.
The 2018 European Bioplastics conference was very much framed around how to deliver circularity in plastics based on renewables, and we benefited from extended discussion of biodegradation, composting, and recycling. It's fair to say that no one yet knows how a mature ecosystem of biodegradable and recyclable, non-biodegradable bioplastics will look, let alone the wider landscape of renewable and fossil-based plastics.
Mapping all this will rely on the development of common testing methodologies and standards, such as HYDRA Marine Sciences' work on marine biodegradability. At the conference HYDRA's Miriam Weber shared the currently available test results and standards of biodegradability under marine conditions. The take-away message was that 'marine degradability' is an incredibly complex concept, since degradation is influenced by multiple variables (light, temperature, depth) and there are considerable gaps in our knowledge still to be filled – and political decisions to be made in relation to the acceptable timeframe. "We need a reliable framework for an environmentally relevant test schemes, to prove and control the claim of 'biodegradability in the marine environment'," Miriam Weber said. "This test scheme is an instrument, but it should be the society deciding if and how marine biodegradability should be supported."
If this implies that we'll have to wait patiently for an empirical basis to judge whether particular bio-based polymers could offer a solution to the marine litter problem, industry is quick to remind us that this shouldn't be seen as an existential question looming over bioplastics. As Novamont's Francesco Degli Innocenti said, "Sometimes bioplastics are attacked on the basis that they might not degrade sufficiently in the case of littering in the sea. This is based on a false premise: bioplastics were not designed as a 'ready for littering' product."
A broader issue that remains very much unresolved is how to measure the respective sustainability claims of bio- and non-bioplastics, since the traditional lifecycle analysis has come to be regarded as a tool with limitations in the context of a growing recognition of the importance of circularity as a criterion. Rana Pant, of the European Commission's Joint Research Centre, gave a keynote presentation on an ongoing JRC project which aims to develop a methodology for a comparative LCA of ten selected plastic products. The objective is to create a level playing field for environmental sustainability comparisons of fossil- and bio-based plastics, but also recycled and CO2-based plastics. The outcome of this project should be studied closely by the packaging value chain and sustainability community.
Inside consumers' minds?
Of course, empirical knowledge is one thing, and consumer attitudes another. The example of the coffee industry, presented by Holger Preibisch of the Deutscher Kaffeeverband (German Coffee Association) offered a valuable lesson in the importance of winning the perceptions war. Having monitored the thinking of coffee consumers over a long period, the DK has found that the public's concerns can be capricious. Ten years ago ethically minded purchase decisions were driven above all by worries about GMO, pesticides and child labour. Today these issues are largely forgotten amid the clamour to reduce cup and capsule waste. This year 78 per cent of German coffee consumers who don't already own a coffee pod machine cite capsule waste as the number one reason for not buying one, while 50 per cent of current owners say they would use their machines more if there were less waste
.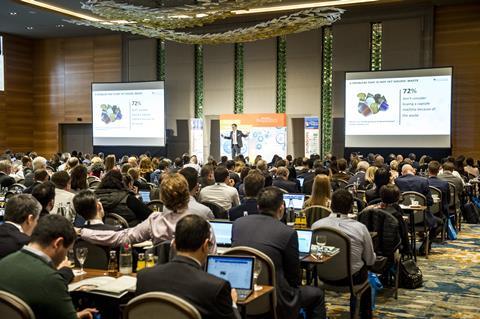 For the coffee industry finding a solution to the waste conundrum is therefore a top priority. But when we interrogate the precise implications of consumer priorities, the answers become more opaque. Asked which is the most eco-friendly packaging material, 46 per cent of German consumers opted for recyclable plastics, 21 per cent for compostables (requiring an additional aroma sleeve) and just twenty eight per cent aluminium. However, there is often a disjunction between what generically concerns a consumer and what actually drives a purchasing decision. What material was chosen for the latest formats launched by market leaders Nespresso and Jacobs Douwe Egberts? – Aluminium.
Across the swathe of end-use packaging markets, bioplastics will need to both present a viable product and come up with a narrative that the public can digest.
Polylactic Acid
With regard to specific bioplastics, the material that was the subject of the most chatter at year's conference was undoubtedly PLA. It's an intriguing option, not only because it has numerous packaging applications and end of life flexibility, but because production scales are getting serious.
PLA can be produced from a variety of feedstocks, from corn to valorised whey (and in the longer term it seems inevitable that the gap in European production will be filled by sugar beet) and can be suitable for both recycling and composting. At the conference speakers explored the various options. Recycling starts to look economically as well as technically viable as market share edges past the magic five per cent that makes separation worthwhile in waste management. Perhaps in time we'll see a landscape of mechanical recycling complemented with some chemical recycling to maintain virgin qualities. Indeed, according to Total Corbion PLA's François de Bie (and chairman of European Bioplastics), the value proposition for chemical recycling of PLA looks attractive.
Meanwhile, composting can be an attractive end-of-life option where food residue is prone to compromise quality of recyclate. Given that compostability is another claim where it can be value to interrogate the details, Evanesto a new enzymatic technology that makes PLA suitable for home composting, launched by Carbiolice at the conference, appears to be a significant advance.
Further investment in R&D will only be encouraged by the clear signals that the market is moving in the direction of PLA from developments such as Total Corbion PLA's newly opened plant in Rayong, Thailand. Using sugar cane as its feedstock, this facility will contribute 75,000 tons PLA a year – a significant rise in global supply. PLAnet, an association of three companies, expects to contribute to rising supply through its new licensing of a sugar-to-PLA technology package. And demand for further expansion in supply is set to increase as brand owners take interest. Danone's Philippe Diercxsens, for instance, took to the stage and indicated to the audience that his company sees PLA as the most likely replacement for polystyrene in packaging.
Projections
Notably inconspicuous in this year's agenda was detailed attention to non-biodegradable bioplastics that are expected to play a role in packaging. In relation to PEF, perhaps this simply reflects the fact that we're at a midpoint in the cycle between pilots and upscaling (with significant investments in production announced just last year). Indeed, European Bioplastics' latest projections for PEF, as well as bio-based PE, look very healthy as added capacities come on stream in Europe in the coming years. Both PEF and bio-based PP are expected to enter the market at commercial scale in 2023. For the time being, however, PLA is the biggest player on today's market and capacities are set to double by 2023.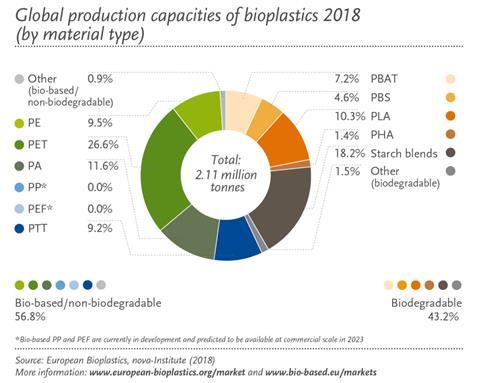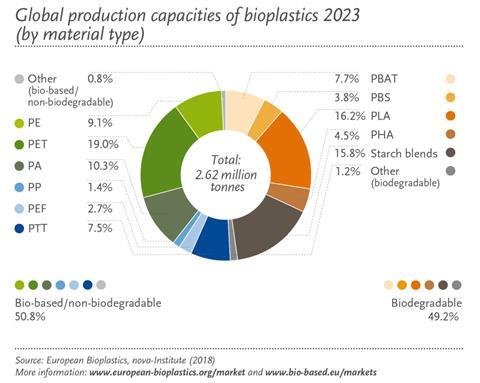 Overall, the global market for bioplastics is predicted to grow by roughly 25 per cent over the next five years. Packaging remains the largest application with almost 65 per cent (1.2 million tons) of the total bioplastics market in 2018. Geographically, one fifth of today's production is located in Europe but this share is predicted to grow to up to 27 per cent by 2023. This trend is reflective of regulatory support across several European states, such as Italy and France, but also the unfolding EU strategy.
"The EU initiatives of the past years aim to promote the circular economy through innovation and to rethink the current plastics system to harness its benefits while overcoming its drawbacks, such as marine pollution," commented Michiel De Smet of the European Commission's Directorate-General for Research and Innovation at the conference. "In connection with the updated Bioeconomy Strategy and the UN Sustainable Development Goals, the EU is supporting the transition from fossil feedstock towards renewable alternatives".
Within the industry, there's a shared sense that the winds of top-level strategy are blowing in a favourable direction. "The joint efforts of the European member states and institutions to create a circular plastics economy have sparked increased innovation activities within the bioplastics community," said François de Bie. "The intense debate about the future of plastics in general has created many opportunities for bioplastics to facilitate the transition to a circular economy. Environmental assessments, rethinking product design, sound and diverse end of life solutions… bioplastics are more than simple substitution, but exert a creative, evolving influence at different steps of the value chain. The bioplastics industry is well positioned to offer additional end of life options that help reduce both litter and CO2 emissions."
As the CPG value chain comes to terms with its multiple environmental challenges – climate change and resource efficiency, plastic waste and reliance on fossils, it seems that polymers derived from biomass will indeed become an ever more important ingredient in our packaging mix.