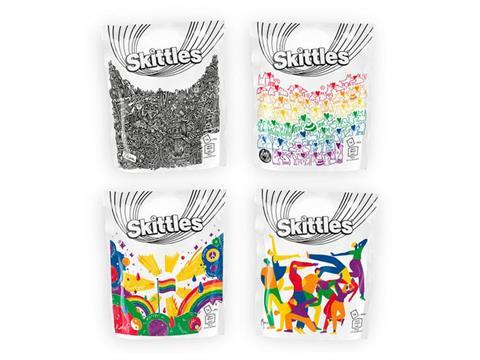 London brand and packaging design agency Straight Forward Design spearheads a new campaign for Skittles to mark Pride 2019.
Throughout June and July, Pride events celebrating equality and inclusivity take place up and down the country. And for the past two years, Skittles has 'given up' its iconic multicoloured candies and packaging, 'because during Pride only one rainbow matters'.
This year, Skittles worked with Straight Forward Design to take the concept of giving up the Skittles rainbow in celebration of Pride even further.
Picture perfect
Skittles wanted the LGBTQ+ community to be directly involved for 2019. So Straight Forward Design created a concept to collaborate with artists who identify as part of the community to create original, limited-edition designs, symbolically handing over the pack space and giving them a potent platform on which to communicate their thoughts and feelings about Pride.
Four LGBTQ+ artists were approached to take part, and then presented with the brief: 'What does the Pride flag mean to you?' They were free to interpret the question as they wished, the only restrictions being pack dimension and number of colours.
Mike Foster, Co-founder and Creative Director of Straight Forward Designs, says: "We were actively looking for ways to create a deeper connection with the LGBTQ+ community when we discovered that artist Thomas Wolski had created a series of works using the 'rainbowless' Skittles packs. That got us thinking about working with different artists and creating a collaborative collection."
Time and space
Straight Forward Design reworked the design architecture on pack, creating space for the artists to communicate what Pride means to them with real authenticity – and allowing for further limited-edition projects in the future.
Fine artist Thomas Wolski; artist, filmmaker, activist and author Fox Fisher; art director, illustrator and graphic designer Kate Moross, and artist and illustrator Maia Boakye were approached because they were a great fit for the spirit and values of the Skittles brand.
Thomas Wolski created a monochromatic pen drawing to represent the chaos and excitement of Pride; Fox Fisher's kissing creatures, hand-drawn on an iPad, depict love and respect for everyone; Kate Moross's digitally painted work celebrates the origin of the rainbow flag, and Maia Boakye's digital illustration encapsulates the spirit and energy of Pride celebrations.
Mike Foster says: "There was something very uplifting and exciting about handing over the design of the packs to artists from the LGBTQ+ community. We were stepping into the unknown, but the results have been better than we ever could have hoped."
The power of togetherness
The whole campaign has been delivered with true collaboration at its heart, between client, agencies and artists, in line with the spirit of Pride and Skittles' inclusive, positive ethos. Straight Forward Design developed the limited-edition packaging with LGBTQ+ artists based on the 'Give the Rainbow' idea created by adam&eveDDB, who also created the supporting communications that will run across social media and the Pride In London Parade Float. Mediacom are taking charge of the media strategy and execution, and Integer are overseeing below-the-line activation.
Mike Foster adds: "Collaboration has made this project more powerful and enjoyable. By bringing people together we've been able to take things to the next level. This isn't a wallpaper exercise, it's about involving the LGBTQ+ community to celebrate pride in a truly meaningful, creative way."
Dan Newell, Mars Portfolio Director, says: "The 'rainbowless' packs have been a huge success for the past two years, but we wanted something new that reflected the voice and vibrancy of the LGBTQ+ community. Straight Forward Design's concept and execution involves the community in a way that celebrates Pride and stays true to Skittles' inclusive, positive brand message."
The limited-edition packs are available exclusively at Tesco.