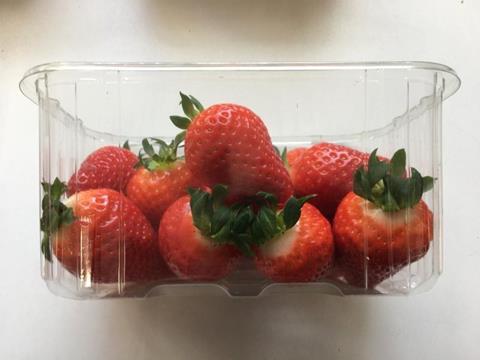 Sharpak Aylesham has announced the launch of SP Airlite, a range of recyclable strawberry punnets with a protected design that mitigates the need for bubble pads, which the company claims is a UK industry first.
Whilst still providing the protection the fruit needs to minimise food waste, it now allows consumers to recycle the pack without the need to remove the pad. In addition to the removal of the bubble pad, the mono-material punnets is described as containing high recycled content, have been redesigned with a plastic weight reduction of between 18%-20% over the current packs.
The punnets, available in 60mm, 70mm and 85mm depths, have been in development since 2019 and were created through a collaboration between Sharpak Aylesham and Berry Gardens. Over the development period, the product has been tested through the picking and packing processes, and the retail supply chain.