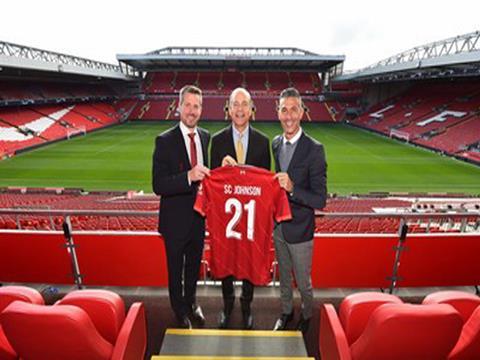 Household cleaning and care products manufacturer SC Johnson has announced its 'Goals for Change' partnership with Liverpool Football Club, which is set to include a closed-loop recycling model for plastic bottles used at Anfield.
More than 500,000 plastic bottles are used at Anfield each year, according to the company. From the start of the partnership, fans at Anfield will be able to place plastic beverage bottles in its specially designed receptacles.
SC Johnson says it will then collect the plastic and repurpose it to create new trigger bottles for one of its brands, Mr Muscle. The company claims that, since February 2021, all of its Mr Muscle trigger bottles sold in the UK are made using 100% post-consumer recycled (PCR) plastic.
According to Fisk Johnson, chairman and CEO of SC Johnson: "Plastic waste is a threat to our planet for this and future generations. At SC Johnson, we believe we all have a responsibility to solve this critical environmental issue.
"Our partnership with Liverpool F.C. is one of the many steps SC Johnson is taking to move forward our vision for a waste-free world as it creates another local solution to this global problem by leveraging football to help close the plastic recycling loop."
This new commitment to circularity is part of Liverpool FC's wider sustainability pledges. In January, Liverpool FC launched the Red Way, which apparently includes offsetting the club's carbon emissions to become carbon neutral in its direct activities, as well as joining the UN's Sports for Climate Action initiative.
Matt Scammell, commercial director at LFC, says: "We launched our sustainability programme the Red Way earlier this year and made a commitment to make a positive difference to our people, our communities, and our planet."
The club says that it views its new circularity initiative with SC Johnson as a "like-minded partnership".
Scammell adds: "SC Johnson has made important step changes within their industry which have delivered incredible results through several sustainability initiatives.
"I feel very optimistic about the work we can do together through this partnership, both raising awareness and looking after the safety of our supporters and ultimately using our voices for good to help the next generation of Reds all around the world."
'Goals for Change' will reportedly include further initiatives to drive sustainability at Liverpool FC in the future, as well as improving health and hygiene and providing pathways for socio-economic mobility for young people across the club's local and global communities.
Meanwhile, SC Johnson says it has committed to making 100% of its plastic packaging recyclable, reusable or compostable by 2025, as well as tripling the amount of PCR plastic content in its packaging. In 2019, SC Johnson also joined the Ellen MacArthur Foundation and is currently a partner for the EMF's ongoing mission to advance a circular economy.