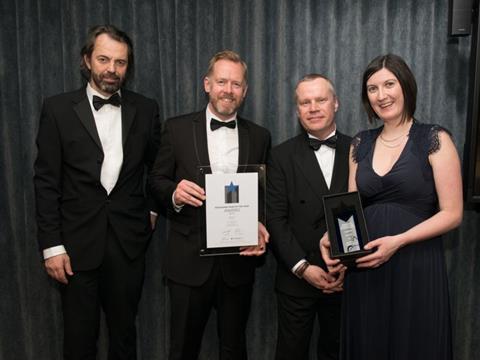 SAICA Pack picked up four wins at the Starpack Awards, hosted by the Institute of Materials, Minerals and Mining.
The packaging innovators were acknowledged for a range of their products and services, including a longstanding partnership with Diageo, which named SAICA Packaging Team of the Year.
Judges praised SAICA's innovative partnership with Diageo, specifically their work on Spirits Case Optimisation, which seeks to enhance the performance of all whiskey and white spirit cases.
Judges noted the 'increased efficiency and robustness' that operate throughout the SAICA Pack-Diageo supply chain process. SAICA contribute the effective SAICA-Diageo's strategic partnership to a dual commitment to exchange ideas and data freely. SAICA Pack's Innovation Project Manager, Jason Fenton, says:
"Our partnership with Diageo relies on collaboration at every occurrence of the supply chain which ensure tangible results can be delivered.
To have our partnership with Diageo recognised at the prestigious Starpack Awards was wonderful."
In addition to SAICA's partnership with Diageo, SAICA scooped three other Gold awards on the night, highlighting the broad diversity of all SAICA's projects.
Two wins - the E-commerce Wine Pack and Salmon RRP Pack were both recognised by judges for their "clever design" yielding maximum efficiency, benefiting suppliers and consumers.
Craig Allen, SAICA's Project Lead on both these wins said:
"At SAICA, we listen to our customers so we can provide, efficient and thoughtful solutions.
Our re-design of the Hattingley Valley Sparkling wine pack is the perfect example of this. By replacing the pulp fitting with a new corrugated design, we improved functionality and streamlined packaging speed."
SAICA's Shelf Ready Transit pack was also identified by judges as a 'high impact' design with the scope for 'wide application'.
The Transit Pack design removes the use of mixed materials minimising the need for extra machinery during production. Designer, Charlotte Hall said:
"The Starpack Awards was a great opportunity to showcase our hard work at SAICA. It was so nice to see our products being so well received."
Commenting on the awards, David Wilbraham, Sales Director UK and Ireland, SAICA said:
"The Starpack Awards indicate SAICA's continuing growth and proactive approach to design in what is a dynamic and competitive industry.
SAICA strive to be attentive suppliers, carefully assessing the individual needs of each of our customers. We're delighted to be recognised by Starpack for delivering thoughtful solutions to our customers."