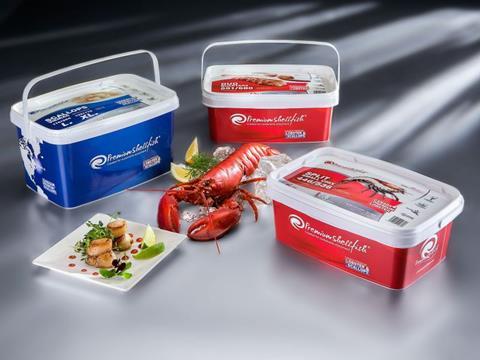 A polypropylene pack from RPC Superfos is being used for a shellfish range from Spanish frozen seafood company Original Gourmet. The rectangular SuperCube® bucket enables reuse and is ideal for branding.
"Our products lost their identity the very moment they were taken out of the cardboard box," explains Marc Gordó Badia, CEO of Original Gourmet. "Now, thanks to the SuperCube® bucket, our Premium Shellfish® makes an excellent first impression and stays in the professional kitchens after the original content has been consumed."
The Premium Shellfish® range comes in two sizes – 3.8 and 5.8 litres – of the rigid injection moulded pack. Both sizes provide a large area for branding and decoration, and feature an attractive high-definition design rendered by the advanced In Mould Labelling technique.
"We highly appreciate that our packs are embellished with top quality, scratch resistant In-Mould Label decorations," continues Marc. "All our customers have congratulated us on our packaging, which is a novelty in our product category."
In addition to the container's other benefits, it can also be used repeatedly, providing outstanding convenience and enabling a second life that supports Original Gourmet's marketing efforts by creating brand awareness among chefs and their teams.
"Right from the start, we received full support from RPC Superfos: an important fact for a small company like ours," concludes Marc.
More info: