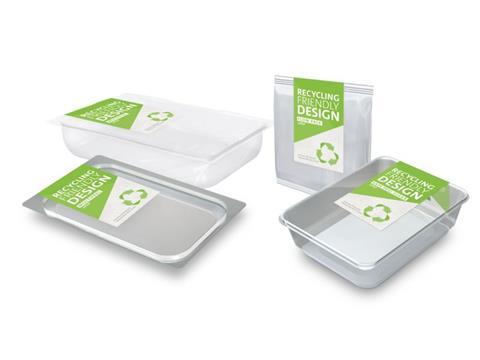 Using less material, improving recyclability, and employing renewable raw materials: at this year's FachPack, SÜDPACK Verpackungen GmbH & Co. KG will unveil a range of solutions that the company says will provide answers to questions concerning the packaging market of tomorrow, already today.
At Booth 242 in Hall 7, the company will showcase innovative packaging concepts that especially shine in terms of climate protection and sustainability – without compromising product safety. In this regard, all SÜDPACK solutions follow the three-pronged strategy reduce – recycle – replace. For example, films from the high-performance Multipeel series use significantly less material, while still delivering optimal protection for sensitive products. Protection is also top priority for the xpect series: using renewable materials, these solutions help preserve both climate and resources.
Reduce: Less material – less strain on the environment
Especially with regard to the reduction of material consumption, the film experts say that they have made substantial advances. This saves resources and helps to preserve the environment. In concrete terms, that means: today far less granulate is required to produce the same amount of film than only a few years ago. Thanks to "downgauging," film solutions are getting thinner and thinner. Established products from the "Veraplex World," for example, are being continually refined with regard to material reduction – without compromising their performance. The MAP top film Veraplex Plus offers a stable lidding film, even for large packaging by using 29 percent less material.
The xPET solution from the Multipeel product family offers similar efficiency. The resealable solution offers outstanding sealing qualities, making it suitable for foodstuffs like cold cuts, cheeses, and bread spreads – with up to ten percent lower material consumption. In turn, the Peel xPET offers an especially broad application range with minimal film thickness. In the packaging concept, it delivers twelve percent lower material consumption, together with absolutely reliable sealing on films made of mono-PET or crystalline PET, and on packaging with antiblock or silicone coating.
CO2 footprint: Resource efficiency and recycling
To conserve resources, SÜDPACK not only uses downgauging but also materials that can easily be recycled or which incorporate renewable raw materials. Consequently, many of the currently available foil concepts are available in the xPEP product group; based on polyolefins, it offers increased recyclability. For example, manufacturers can opt for the Safe Peel Clear xPEP, which will also be presented at the FachPack. It delivers the same sealing performance as its sister products, but when used in combination with PP packaging, it's up to 96 percent recyclable. xPEP solutions for Multifol, flow wrap and Multipeel products are also available. In this variant, Multipeel xPEP concepts offer an impressive 90 percent recyclability rating on the Ecoterm scale.
"The recyclability of our plastic solutions is one essential aspect. At the same time we want to improve our independence from petroleum, so as to further reduce our films' CO2 footprint," says Carolin Grimbacher, Managing Director and Head of Research and Development at SÜDPACK. In the product lines "Planova" and "xpect" SÜDPACK is therefore focusing on renewable resources: cornstarch-based PLA for the Planova series, and bio-based polyethylene (PE), derived from sugarcane, for the xpect line.
The range of applications for bio-based PE and PLA at SÜDPACK continues to grow: products from the xpect line are available as MAP packs, top and bottom films, and as flow packs, and provide the same functionality as those made of conventional PE. This is an advantage for further processing: manufacturers who choose xpect line films can continue to use their current packaging machines, and can design their products using rotogravure, flexo or digital printing just as they've done in the past, while enhancing their brand image with regard to sustainability at the same time.
Craft Line: Paper for a natural shopping experience
Thanks to their combination of sustainability and branding, SÜDPACK's new film packaging solutions with paper component are another highlight at FachPack. The products Veraplex Craft, Ecocraft Skin and Ecocraft Shape form the new SÜDPACK Craft Line, which is characterized by its nature-inspired look and feel, and good printability. All solutions combine a thin layer of plastic with paper – and undiminished performance. FachPack visitors can get to know the new bottom film Ecocraft Shape, which is particularly flexible. It is made of 80 percent paper and a thin layer of PE, on the side that comes in contact with the product. This approach saves plastic, while also making it possible to flexibly adapt the packaging to the product: the Ecocraft Shape can be deep drawn up to 15 millimeters and offers packaging with an appealing look and feel, especially for cheese, sausage and meat products. In turn, after product consumption, the Ecocraft Skin allows the cardboard and film to be easily separated: clear and simple recycling tips provided on the packaging, and easy-to-separate materials make properly sorting waste quick and easy.
Recycle and replace: keeping the entire supply chain in mind
SÜDPACK is not only focused on using more and more recyclable plastic. Many plastics used in film manufacturing already are recycled or internally regranulated. "Plastic is a valuable raw material. That's why, whenever possible, we use recycled material for our films," says Johannes Remmele. "Needless to say, in this regard quality, product protection, and hygiene remain our topmost priorities." Thanks to the founding of their in-house compounding center in Schwendi, SÜDPACK will soon be able to produce its own plastic granulates. By mixing and manufacturing its own granulates, the company will be able to more precisely tailor their characteristics, and to accelerate the development process for new products. Here, one focus area will concern the treatment and further processing of secondary raw materials generated during production so as to yield regranulates. In turn, SÜDPACK will use the regranulates for its own products, creating a closed material circuit.
Moreover, all products and processes at SÜDPACK are being continually refined and improved: "Respect and innovation are the keys to improved sustainability," claims Carolin Grimbacher. "That's why we're investing heavily in new technologies and techniques that will make our products even better and more sustainable." For example, the testing facility multiXtrusion allows the experts at SÜDPACK to simulate all conventional manufacturing techniques for plastic films, and to identify how they could be optimized. This approach yields e.g. particularly resource-efficient films, which can also be brought to market sooner. SÜDPACK is also at the forefront of developing new, innovative technologies for the recycling of composite plastic films: as a partner in BASF's pilot project "ChemCycling," the film experts recently produced the world's first prototype package made completely of chemically recycled plastic – an important milestone on the road to 100% recyclability, even for composite films.