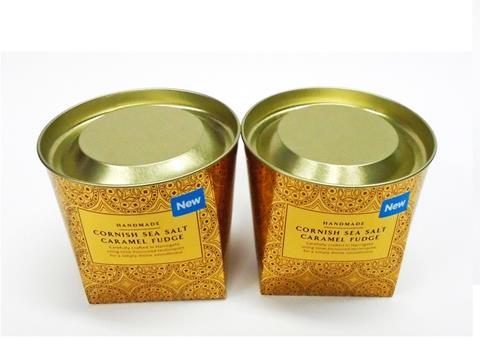 An innovation that started life as a practical alternative to conventional rigid tube packaging and largely aimed at the drinks industry for bottle conveyance, has become a hit at retail with confectionery manufacturers.
Designed and produced by print & packaging firm, Qualvis, the 'Qube' as it is known, is currently with two leading producers - Harrogate-based The Serious Sweet Company and Dutch chocolatier, Baronie. Launched at retail pre-summer under the ASDA Extra Special brand, sales of the packs and product combinations to-date has been successful, resulting in additional products being launched.
The Qube is a flat fold tube design, featuring a gold metallised polyester carton tube base with matching gold tinplate lid. Providing considerable supply chain and environmental benefits over conventional rigid tube packaging systems, the design has generated a great deal of interest from various brands, having been one of ten shortlisted products at this year's Packaging Innovation's 'Innovation Showcase' in London.
Qualvis' creative director, Richard Pacey, said: "We are delighted with the interest in the Qube. We had complete faith in the design from the outset. It ticks the right boxes from a supply chain perspective by offering manufacturers an alternative to rigid packaging. All that was needed was an appropriate application, as in this case provided by confectionery manufacturers. Given the interest in the pack, the design appears to have much potential for other applications."
Based in Leicester, Qualvis Print & Packaging specialise in high-end print and packaging for the food, cosmetic, multimedia, horticulture and DIY/household markets. Their customers include Marks & Spencer, Waitrose, Sainsbury's, Clipper Teas, Maldon Salt, John Frieda and other leading brands.
More info: