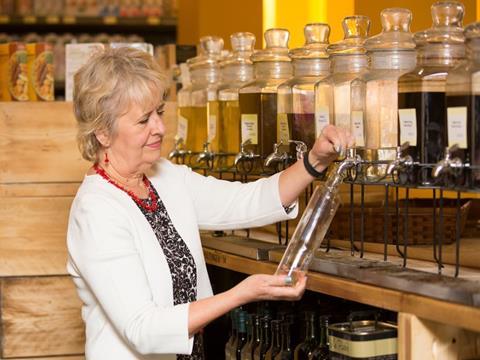 A wide range of products, from locally-made herbal shampoo, to an array of herbs for cooking is available at Locavore, an innovative new 'super' market in Glasgow's Southside – the difference is, customers can come in and buy these items without the use of single-use packaging.
The range of 'fill your own' plastic-free shopping – including milk for sale in refillable glass bottles – is now available in the brand-new store in Victoria Road, thanks to £100,000 funding from Zero Waste Scotland – supported by the Scottish Government and the European Regional Development Fund (ERDF).
Cabinet Secretary for the Environment Roseanna Cunningham visited the store, with Warren McIntyre of Zero Waste Scotland, to launch the new environmentally-conscious range – and use Locavore's example to announce on(Monday 28th May that Zero Waste Scotland is seeking ideas from businesses to reduce single-use packaging, with total available funding in the region of £1million.
The issue of how to tackle the harm caused by single-use plastics is hugely topical just now. In Scotland, around 120,000 tonnes of plastic packaging waste is produced from households each year – much of which ends up in landfill. Cabinet Secretary for the Environment, Climate Change and Land Reform Roseanna Cunningham said: "It was fantastic to visit Locavore to launch its new range of packaging-free goods and see for myself how customers can come back again and again for essential items, thanks to the use of refillable containers. My parents used to live in this area and would have loved this shop and its products which are all locally-sourced."It's ideas like this that are at the heart of the Scottish Government's Making Things Last Strategy, which looks to develop our circular economy and protect our environment by keeping products in use as much as possible."Zero Waste Scotland is looking for more innovative new ideas to reduce plastic and packaging waste.
Warren McIntyre, Programme Manager, Resource Efficiency, Zero Waste Scotland, said: "Zero Waste Scotland has worked with Locavore to help flag up areas where the store could cut packaging and provided advice and funding to help them introduce these new packaging-free options for customers. I'm really excited to see this in action in the brand-new shop.
"Shoppers are increasingly concerned about single-use packaging which is often not, or can't be, recycled. While packaging has a role to play in ensuring food and other products reach consumers in good condition, businesses such as Locavore show that it can be reduced – and that's extremely popular with shoppers. "The best way for businesses to take action then is to help reduce the amount of packaging we're all using. That's why Zero Waste Scotland is looking for more ideas from businesses to help cut single-use packaging in Scotland. We have funding and support available which could make your plans a reality – so get in touch," Warren concluded.
The store's wares also include pulses, nuts, grains, oil and vinegar, all types of household cleaning products, and snacks like popcorn. The range is already attracting three times as many customers in the first few weeks of trading as store managers expected.
Zero Waste Scotland is looking for businesses who have a strong, workable idea for reducing single-use packaging and could benefit from advice or funding to take it forward. Contact them here.