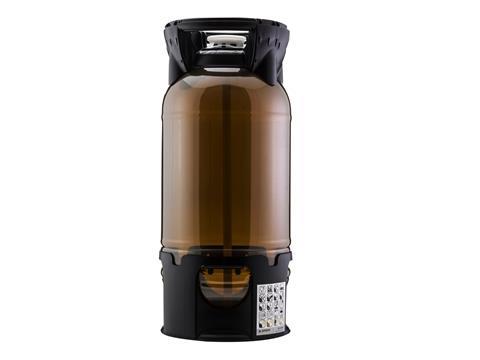 Petainer, a leader in plastic container innovation, has unveiled its new petainerKeg™ Hybrid as part of its global keg family of products. The one-way Hybrid keg offers universal filling, excellent handling, safety and sustainability benefits.
Petainer's team of scientists and technical experts have worked closely with partners such as KHS, the global leader in keg filling equipment, and customers to ensure the keg design meets the exacting needs of users across the drinks industry – from beer, wine and cider, to cold brew coffee and kombucha.
Commenting on the launch, Erin Corstanje, Group Director NPD & Technical support said:
"We set out to design and develop a versatile PET keg which provides the best user-experience and compatibility with existing systems which lowers the barrier to entry for draught products. We have achieved this and maintained the significant cost and sustainability benefits which are so important to our customers' CSR objectives, such as reducing the carbon footprint and water use."
Nigel Pritchard, Chief Operating Officer, Petainer Group, said: "Petainer is the global leader in one-way PET kegs. The launch of Hybrid marks another step in our growth plans as we continue to invest and innovate to ensure that we are meeting the needs of our customers across all of our key markets around the world."
More cost-effective and sustainable
PetainerKeg™ Hybrid has a lower total cost of ownership than other packaging formats such as steel and glass, because it can be filled, sent and recycled when it is empty, cutting out costly return logistics and washing processes. In addition, only minimal investment or adjustments to filling lines are required because the keg has been designed to be filled using existing equipment, whether it is manually or on semi and fully automatic lines.
The keg can also be sold as a kit and then blown and assembled at the filling plant in the local market, providing cost-efficiencies and helping to improve profits for larger breweries producing high volumes of draught beer.
Easier to use and recycle
The keg provides superior handling and stacking compared to competitor products, thanks to its ergonomically designed top and bottom chimes, and is just 10% the weight of a traditional steel keg, making handling at the filling plant and on-trade easier.
Like other products in the petainerKeg™ range, Hybrid can be used with universal coupling systems, with flat fittings compatible with Micro Matic A and G systems and well-type fittings compatible with Micro Matic S and D systems, so customers know their product can be dispensed anywhere in the world.
Once empty, the keg is easier to depressurise and disassemble than other PET kegs – the chimes simply unclip from the keg body so that all parts can be recycled as part of the waste stream.
Enhanced product safety and protection
Petainer's kegs meet the highest industry standards for safety and product protection and have been fully approved for use by three out of the top five global breweries. Hybrid provides enhanced product safety because it is blown from a heavier weight preform to provide a thicker keg wall. This makes it more pierce resistant and can withstand an operating pressure of 3.10bar (45psi), with maximum operating pressure of 4.14bar (60 psi).
Hybrid's thicker wall also means improved CO2 and O2 gas barrier properties, helping to protect the quality of the beer. Independent tests show that the keg keeps the beer as fresh as other containers in the packaging mix. VLB taste tests* show that after nine months the taste hasn't changed and is on a par with steel kegs.
petainerKeg™ range
Initially available in 20 Litres, and soon 30 Litres, Hybrid is the latest addition to the petainerKeg™ portfolio which comprises petainerKeg™ Classic, petainerKeg™ with USD top and sleeve, and petainerKeg™ Linestar.
More info: