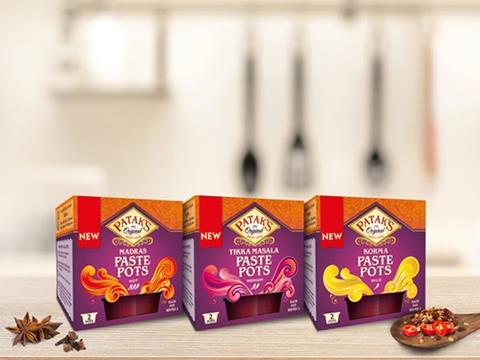 A new range of spice Paste Pots by Patak's has launched into Morrison's with contemporary packaging design by Hornall Anderson.
To showcase the intense aromas and flavours generated by the paste pots and forge a sensory experience for the consumer, graphic squirls feature on the front of pack.
The challenge
Patak's wanted to communicate the benefits of its single use Paste Pots range to an audience looking for greater involvement from cooking, or who wanted to reduce the time required to produce guaranteed delicious and authentic curries. The range currently includes Madras, Tikka Masala and Korma.
The Patak's brand has always been seen as a leader in the category, but to ensure Patak's Paste Pots stood out on shelf and communicated the benefits, it needed to redefine its sub-brand look.
Eye catching purple, orange and cream squirls represent the flavour variants and help grab attention. They also serve to illustrate the intense and indulgent nature of the product.
A sensory experience is created on front of pack with the use of the graphic illustrations, showing an emerging trend within food packaging, which ignores traditional food photography.
Colours, shapes and graphics make packaging feel modern, while the team at Hornall Anderson took inspiration from the colours at holy festivals in India, selecting a vibrant and foodie colour palette. A paisley pattern adds interest.
Ensuring success
Kim Van Elkan, Managing Director, Hornall Anderson, says: "We had very limited space to work but the use of a graphic illustration on the front of pack overcame this challenge and communicated the sensory experience which will attract consumers looking for an easier and more convenient way to blend spices. Graphic illustrations feel so modern and will be a big trend going forward."
Paul Watmore, UK Marketing Director, AB World Foods, adds: "The launch of Patak's Paste Pots is one of our biggest and most important innovation projects and will introduce many new consumers to the wonders of Patak's Paste Pots. Getting the design right was a vital part of ensuring success and I feel Hornall Anderson managed to do a great job.
"Patak's has a very strong design hierarchy across its range, designed to create maximum brand stand-out in store and help consumers navigate to the right product. However, with Paste Pots we needed to generate extra stand-out for a new range, on an innovation project that was designed to be very shelf-efficient for retailers. The graphical expression of an explosion of flavours coming out of the pot will entice consumers to try the new Patak's Paste Pots."
Patak's Paste Pots are available in Morrison's now and will be available in most major retailers including Asda, Sainsbury's and Tesco in the coming weeks. The RRP is £1.49.
More info: