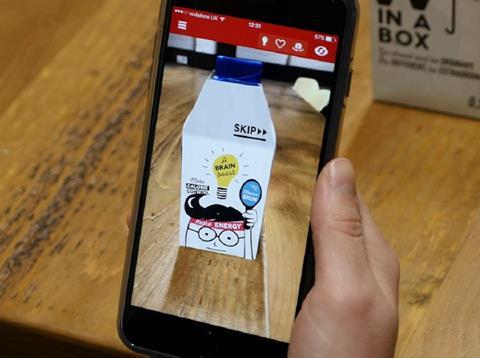 Martin Stahel, sales director
We pose the burning question- is AR a gimmick or game changer?
Martin Stahel:
You won't be surprised to hear that I think AR has revolutionary potential for the packaging industry. But it's all about companies like ours who are involved in the sector to share those success stories and help brands unlock genuine value with the technology - to nurture it and help it grow. Pull-out quote: Gimmickry is the realm of using technology for technology's sake. Like any other business, you need a commercial objective to aim at and an assessment of whether AR is the right choice to meet it.Moving beyond that is all about focusing on the creation of valued experiences and actively solving brand problems.
One thing we're regularly saying to the brands we work with is that AR is not simply a box to be ticked or about a one-off campaign activation; most consumers do not tend to be excited by AR in and of itself - they want compelling content regardless of the medium, so together we need to make connected packaging experiences contextually relevant, genuinely useful and compelling.But we have to acknowledge that creating a long term always-on connected packaging strategy is a marathon and not a sprint.
We've been talking to and working with some of the biggest brands in the sector for a number of years now. It requires multiple-stakeholders across the organisation to execute property and needs a high-level internal champion to drive the process. There are certainly quick wins and test-and-learn strategies to deploy to start the process. But it is essential that the right systems and processes are put in place in order to lay the right foundations from the start and ultimately deliver the best ROI for the business.
With the examples we have mentioned earlier, we're actively demonstrating that AR has eminently practical use cases that actively solve problems for the brands we work with as an everyday utility and additional information source for their users.
Combining strategic best practice with commercial success is only going to make the connected packaging offering more compelling for brands and I think that will inspire something akin to a revolution in the packaging industry - at least, in the sense of re-shaping perceptions of packaging where brands no longer see a passive object, but a gateway to an always-on digital content and delivery channel that they can own to drive better consumer understanding, usage habits and business decisions. Ultimately we see a future where every single product and piece of packaging is connected.
We believe it will be an expectation of users that they can access more relevant information, offers, promotions and payment options related to the product though scanning it via their mobile device. Connect packaging will soon be part of the usual media planning and content development cycle as an always-on owned media channel.
The brand owners who are already taking advantage of this technology have a natural head start over their competitors.It's certainly a hugely exciting time to be in the packaging space and we're excited to see it continue to evolve.