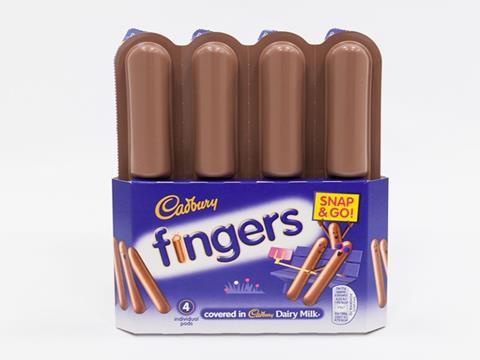 A new snack pack concept created for Burton's Biscuits has earned packaging solutions manufacturer, Parkside, victory for the Most Innovative Packaging Development at this year's FMT Food Industry Awards.
Parkside was also named runner-up in the same category for its Parkscribe® Steam bag, a revolutionary self-venting, microwavable bag for frozen vegetables.
The winning 'Snap & Go' packs were developed for Burton's Biscuits' Cadbury Chocolate Fingers range. They comprise 4x31g PP trays with complementary lidding films that have been created to tap into the on-the-go snacking market, whilst offering portion control features for consumers and strong on-shelf aesthetics for retailers.
Parkside developed the unique printed lidding film, which has a laminate structure and perforation pattern that could only be created thanks to the company's multi-directional laser capability. In addition, its PET heat-seal lidding film can be sealed to all tray materials including PP. Parkside played an instrumental role in advising about the tray design, which has been developed to look like a Cadbury Finger and offers optimum performance in combination with the film.
The FMT Food Industry Awards are held annually and celebrate creativity, innovation and excellence within the British food industry. Celebrity chef, John Torode, was guest speaker at the event, held at Royal Garden Hotel, London.
Phil O'Driscoll, head of innovation and new product development, at Parkside, said: "To win one award is fantastic news and to be named runner-up with another product in the same category is something the entire team at Parkside is proud of.
"The development of the Cadbury snack pack was challenging, mainly because of the complex nature of the lidding film which needed to easily 'snap' along the perforation, without compromising the seal of other trays. This functionality was needed for the pack to address the on-the-go snacking brief set by Burton's Biscuits.
"The pack offers great shelf-standout and is unlike anything else on the on the biscuit aisle. It is unmistakably created for Cadbury Fingers, enforcing strong branding."
More info: