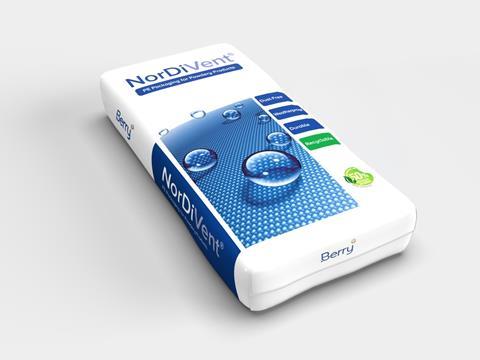 Berry Global and Haver & Boecker are collecting and recycling Berry's NorDiVent film bags in a closed-loop system hoped to cut down on waste and encourage the reuse of valuable resources.
Leftover NorDiVent film from test runs of Haver & Boecker's ADAMS filling machine will be sent to Berry's flexible films facility in Steinfeld, Germany. There it will be washed, shredded, processed into regranulate, and used to manufacture new tubular film.
The companies anticipate that the pilot will demonstrate the possibility of collecting and recycling empty bags and encourage collaboration across the value chain to develop similar schemes. It is also set to contribute to Berry's BMore Together initiative, which intends to help customers and suppliers meet their sustainability objectives.
"We are delighted to be partnering with Berry on this important project," said Haver & Boecker's Christian Reinke. "It enables our customers to enjoy the many benefits of plastic film while demonstrating that the used bags are a valuable resource that can be recycled.
"Equally important, the bags containing recycled plastic meet the high standard of technical performance required for powder-based products."
Frank Heseding, sales director for Berry Steinfeld, adds: "This is an important initiative that shows how it is possible to close the loop for plastic film, with a practical solution that collects and recycles the film to produce a high-quality bag containing up to 50% recycled plastic.
"The demand for recycled material will continue to grow, as businesses seek to strengthen their activities around the circular economy. Projects such as this clearly show how plastic can be part of the solution."
In the summer, TerraCycle released its Zero Waste Bag for 'hard to recycle' products; it enables packaging like crisp packets and cosmetic packaging to be returned to TerraCycle and processed into new materials.
A collaborative project involving BASF, Krones, Südpack, and Tomra are also collaborating to separate PET/PE multi-layer packaging into its individual components and return them to the materials cycle as raw materials.
If you liked this article, you might also enjoy:
The L'Oréal approach to packaging sustainability
What steps is Apple taking to make its packaging more sustainable?
How did Brazil achieve its 100% aluminium can recycling rate – and can it be replicated in the EU?
Experts have their say on the EU's Packaging and Packaging Waste Directive revisions
Also, if you're interested in packaging sustainability, you will want to attend our Sustainable Packaging Summit in Amsterdam on 14-15 November. The Summit brings together leaders and pioneers from across the industry to align strategically, learn, network, and create a critical mass to accelerate change. You can learn more by clicking here, and you can buy a ticket to attend here.