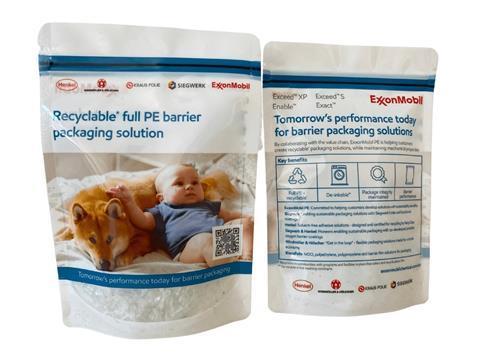 A value chain collaboration between ExxonMobil, Henkel, Kraus Folie, Siegwerk, and Windmöller & Hölscher has reportedly resulted in a fully recyclable, high-barrier PE pouch with similar properties to its multi-material laminated alternatives.
Said to utilise up-to-date polymers, inks, functional coatings, adhesives, and conversion technology, the new pouch can reportedly produce an almost colourless recyclate. This has been achieved through the application of Siegwerk's delamination/deinking primer technology to Windmöller & Hölscher's MIRAFLEX II flexo printing press printing press with a downstream unit.
Customers can remove the pouch's printing ink and oxygen-barrier coating layer to produce this optimised recyclate, says Siegwerk. The company is currently offering solvent- or water-based primers from its CIRKIT ClearPrime product range, which can be utilised in industrial hot-washing conditions.
Meanwhile, the pack's oxygen barrier properties are credited to Henkel's one-component barrier coating, Loctite Liofol BC 1582 RE, as well as Siegwerk's CIRKIT OxyBar BC 1582. The coating is apparently compatible with both flexo and gravure presses at industrial machine speeds on various substrates, which is expected to provide 'excellent' transparency.
Furthermore, Henkel's solvent-free, two-component polyurethane laminating adhesive, LOCTITE LIOFOL LA 7102 RE / 6902 RE, is expected to improve the recyclability of the product; it has been designed for mono-material structures and has been certified as compatible with recycling by RecyClass.
Cyclos HTP has also confirmed that the pouch is recyclable, and Siegwerk also states that the product meets Critical Guidance by APR. Coloured and white inks from Siegwerk were used to match such requirements.
ExxonMobil has provided polyethylene materials that are expected to improve the pack's integrity, including its Exceed S and Exceed XP resins alongside Exact plastomers in the sealant later. The MDO-PE films are in turn a joint development between ExxonMobil and Kraus Folie, produced on the VAREX II extrusion line with inline MDO unit using ExxonMobil's HDPE and Enable performance PE.
Additionally, the pouch is anticipated to offer higher primer transparency in combination with consistent print quality and a glossy finish for high-quality shelf appeal. Deinking primer, print image, and barrier coating can apparently be applied in a single step using a MIRAFLEX machine.
Windmöller & Hölscher previously worked alongside TotalEnergies and Mitsubishi Chemical Group in the production of a High Barrier Stand-Up Pouch. Reportedly made of 98% PE and 2% EVOH, it is said to be fully recyclable and food-safe, and a successful proof of concept was completed last year.
Mondi also provided a recyclable, mono-material PE pouch to package refills for Henkel's Pril hand dishwashing liquid, which also became available in a 100% recycled PET pump dispenser bottle.