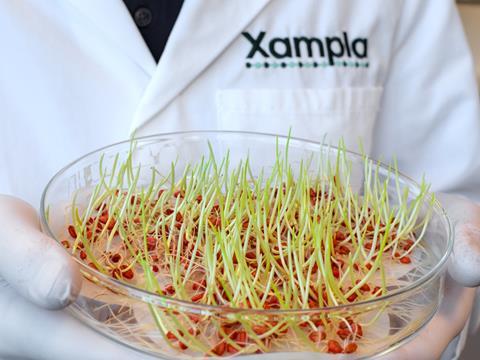 Xampla and Croda International have announced a partnership to develop microplastic-free, biodegradable seed coatings for the agricultural sector.
The alliance will bring natural replacements for microplastics to the seed coating industry through a £640,000 project trial of Xampla's plastic-free seed coatings, backed by the UK government and the National Institute of Agricultural Botany (NIAB).
Seed coatings are used in agriculture to protect seeds from pests and diseases and increase germination, helping increase crop yield with minimal use of additional plant protection products. However, some seed coatings rely on petroleum-derived polymers, which are not fully degradable in agricultural soils.
This trial will see the development of next generation microplastic-free seed coatings which the company says are fully biodegradable.
Expected to take a year to complete, the companies hope that the trial will see Xampla's technology protect and enhance soil health. The solution is compliant with a microplastic ban across Europe, proposed by the European Chemicals Agency, which – if adopted – will be introduced by 2027.
Xampla's chief executive, Simon Hombersley, comments: "Working with Croda International is an enormous opportunity to show how we can deploy our entirely natural replacement for traditional seed coatings that often contain microplastics.
"Croda has been working on this problem for some years, seeking to reduce the impact of microplastic on agricultural soils, and not without success. It is by working with big hitters of this kind that we can really move the market and bring about change quickly."
Regarding end of life, Xampla's head of research, Marc Rodriguez Garcia, recently told Packaging Europe: "Our material decomposes in the environment naturally and fully and is a source of protein for living things. We've designed it to be home composted."
"In a lot of other bio-based plastic alternatives, chemical crosslinking is used to give a material the functionality of plastic, and this can compromise end-of-life sustainability by slowing degradation. Our material doesn't require any chemical crosslinking, so there's no trace of it after it's disposed of."
Earlier this year, meal box provider Gousto announced plans to trial an edible stock cube, using packaging developed by Xampla.