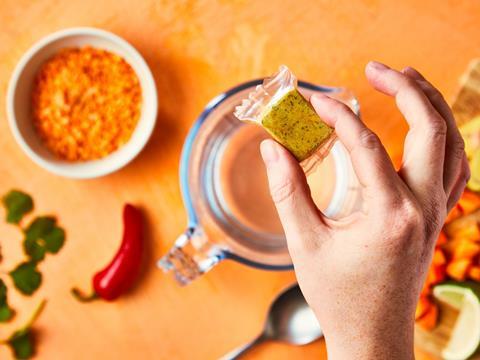 Gousto has announced plans to trial an edible stock cube, which uses a pea protein packaging developed in partnership with Xampla, a spin-out of the University of Cambridge, in its recipe boxes during November.
According to the companies, the stock cube packaging is made by engineering and drying a pea protein material into sheets. The pea protein sheets reportedly have similar properties to plastic and are thus able to preserve the food's flavour and shelf life.
Simon Hombersley, CEO of Xampla, comments: "This world-first edible pea protein packaging is the product of 15 years of University of Cambridge research, and over a year of development with the Gousto team.
"We're so excited to be working with the recipe box company to offer more sustainable alternatives to plastic, and hope this marks the beginning of significant change within the industry and many more innovative packaging solutions in the future."
The edible stock cube will be trialled as a replacement for Gousto's existing stock mix sachets. Based on estimated sales of around 25 million in 2022, the company claims that the pea protein stock cube could save up to 17 tonnes of plastic annually if rolled out in full.
Currently, customers can chose to add Gousto and Xampla's pea protein stock cube to deliveries as part of its Indian Spiced Carrot & Lentil Soup recipe. This trial option will run from the 6th to the 12th of November 2021.
Last year, Gousto claimed it had met its pledge of reducing plastic usage by 50%, aided by its insulator packaging solution for transporting chilled ingredients, which apparently cut plastic by over 100 tonnes during its pilot year. Gousto also made commitments to reducing food waste earlier this year via a partnership with DPD to re-route failed deliveries of its recipe boxes to FareShare, a charity that distributes food to vulnerable people and communities.