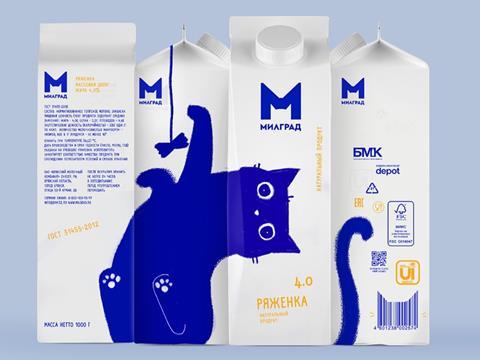 Pentawards has released a report identifying the key trends that could influence packaging design in 2022, with topics ranging from storytelling to sustainability to social justice.
The Pentawards have been running since 2007, bringing together an international jury to appraise packaging design from across the world.
Released in December 2021, the report draws on insights from patterns and trends observed across the 2021 entries to the Pentawards. There were approximately 2,000 packaging design projects submitted from 60 countries, which were in turn judged by a panel of 45 jurors from over 20 countries.
According to the report, the Pentawards demonstrated the potential of design to "help solve crucial issues both in business and for the planet as a whole".
Adam Ryan, head of Pentawards, comments: "This creative fighting spirit will forever lift our industry and continues to make it the most exciting in the world.
"Our first-ever trend report highlights all of this, revealing the creative zeitgeist of the time but also giving us a glimpse into the future – which is more exciting than ever."
The power of novelty
Two of the key trends in the report – 'surprising takes on traditional packs' and 'colour as the key visual' – suggest that novelty is an aspect of design consumers are increasingly gravitating towards, especially during the COVID-19 pandemic that has required many people to stay at home or engage with products in new ways.
While the importance of colour in packaging design is well known, some brands have been pushing the boundaries with the amount and type of colour used. Often combining minimal product imagery with bright colours, the trend of bold, disruptive, and colourful design is likely to grow, according to Pentawards.
The innovative visual and tactile potential of packaging is recognised in a further three trend categories: 'packaging as a canvas', 'the rise of wrap around illustration', and 'packaging as transformative storytelling'.
Pentawards notes further breaks from tradition with the trend of packaging "being used as the actual canvas for the art itself, rather than a vessel you simply stick art on to". This trend appears particularly prominent in the beverages sector, with brands including Absolut and Ballantine's Scotch Whiskey bringing on artists to design the packaging of limited-edition ranges.
Some brands also seem to be using wrap-around illustrations to extend such designs, with the visual of two or more packs next to each other to create a full image becoming increasingly popular. This can help to connect with consumers through storytelling, often linked with the brand itself or the purpose of the item, as well as boost appeal on marketing platforms like Instagram and TikTok.
Jane Struk, art director at Depot branding agency, explains: "Using illustrations is one of the best ways to communicate an emotion.
"It becomes even more impactful when a brand uses more than one side of the packaging to develop a storyline."
According to Pentawards, consumers are drawn to the creativity, confidence, and uniqueness of such designs, which are more likely to stand out – meaning these trends could well continue into 2022.
Pandemic priorities
The Pentwards Team acknowledges that many designs were inevitably impacted by the ongoing COVID-19 pandemic. The report highlights the optimisation of packaging for e-commerce as a key design trend, corresponding with consumer behaviour trends that saw a spike in online shopping as shops closured during lockdowns.
When designing packaging for e-commerce, Pentawards emphasises three considerations: appearance, both online and once the package arrives at the consumer's home; how it will fare in transport; and the sustainability impact of packaging that would not be needed if an item was purchased in store. In the future, Pentawards says that it expects even more brands to use packaging specifically designed for online distribution to boost the impact of products available through e-commerce streams.
Perhaps unsurprisingly, sustainability remained a focus alongside COVID-19 and is another major trend identified in Pentawards' report – but with a particular focus on making sustainability obvious to the consumer via design. Tying in with the trends of storytelling and visual boldness, brands are seeking to make their sustainability efforts transparent to consumers, and part of what makes a product appealing.
Like other trends disrupting tradition, Pentawards adds that the sustainability category features fresh takes on familiar packaging. Two examples highlighted in the report are Absolut's Paper Bottle prototype, designed in collaboration with Paboco and made from 57% paper, and evian's 100% recycled PET bottle that features the logo embossed directly onto the bottle rather than a label.
Reflective design – trend or necessity?
The remaining trends explore social issues, and the ways in which packaging communicates the ethos of a brand and promotes inclusivity. John Glasgow, executive creative director and co-founder at Vault49, notes: "Packaging design can be a useful communication tool to highlight a brand's values, and this creative style can really help a brand make a statement."
Partially reflecting the challenges people have experienced during the COVID-19 pandemic, some brands have been using packaging to highlight mental health, sparking conversations or signposting consumers to avenues of support. Similar to trends surrounding sustainability, this appears to be linked with brands making their impact clear through design – for example, FRAHM's packaging for men's jackets is closed with tape that features a message about 'opening up', as well as information on the company's donations to men's mental health charities.
Pentawards also emphasises the trend of brands accounting for the diversity of consumers in relation to race, gender, sexuality, disability, and age, and becoming more inclusive via design. When considering the imagery used on products, brands seem to be ensuring that design aspects like illustrations reflect the diversity of their consumer base, such as the Love is Love olive oil labels that feature a range of different couples.
On the topic of illustrations, some brands have similarly incorporated "the visual language of protest and propaganda" into packaging design, which Pentawards says reflects the current political landscape and the importance of activism across the world. This trend is apparently geared towards brands maintaining relevance and appealing to consumers by reinforcing the issues they care about.
Brands are also begging to make products more accessible, which charities like the Royal National Institute of Blind People (RNIB) have already been campaigning for. Last year, Packaging Europe reported on the importance of this design consideration, speaking with Procter and Gamble's Accessibility Leader, as well as the founder of the universal raised symbol system that can help blind or partially sighted consumers navigate cosmetic products.
Importantly, Pentawards emphasises that diversity, inclusivity, and accessibility should not be "a token nod". In the future, perhaps these design aspects will not be considered a trend but an essential and fully embedded part of packaging.