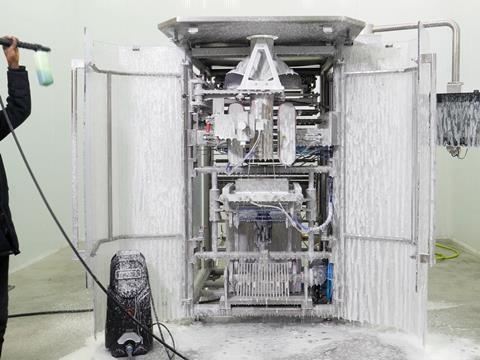 WeighPack has announced that its VF-1200 continuous motion vertical bagger is now available in a 'sanitary version' to meet high-pressure washdown needs in wet, cold, and harsh environments.
Aiming to offer customers a packaging machine that has been sanitised to a high standard, the VF-1200 has been engineered to work in environments that are incompatible with vertical form fill seal machines. The model is made of stainless steel made with the highest IP standards for motors, heating elements, thermocouples, electronics, touch screens, and cabinets, according to WeighPack.
As opposed to the intermittent motion seal bars of a vertical form fill seal machine, the VF-1200 apparently operates with vertical sealing bars that remain in continuous motion and only open in close in full sequence – negating the need for stoppages and keeping production rates constant.
As a result, the VF-1200 is thought to be capable of handling multiple package formats in various sizes, as well as providing flexibility for retail and club-size packaging in the snack foods, confectionary, frozen food, cheese, seafood, and meat and poultry industries.
Other features include its toolless removable vertical seal bar, vacuum pull belts, second film roll support, film splice table, Omron motion controller and servos, a 15-inch colour touchscreen, horizontal jaws, and forming shoulder, as well as an open-frame design for easy operator access.
"We feel strongly that our industry requires more solutions for high sanitary washdown to help mitigate any risks of cross-contamination or bacterial growth as a result of poor cleaning to ensure that the consumer remains safe," says Nicholas Taraborelli, vice president at WeighPack.
A previous development saw WeighPack announce the launch of its new coffee bagging system for premade box gusset bags, featuring a product rejection system to prevent the accumulation of bags that are outside the desired weight tolerance.
Volpak's new Enflex PHS series is intended to produce packaging in the stick-pack format for pharmaceutical and healthcare applications; and Ishida Europe's INSPIRA Box Motion vertical form fill seal claims to utilise 17% less energy in operation and 25% less on standby than its previous models as well as enabling a lower-cost and flexible operation process for snacks manufacturers.