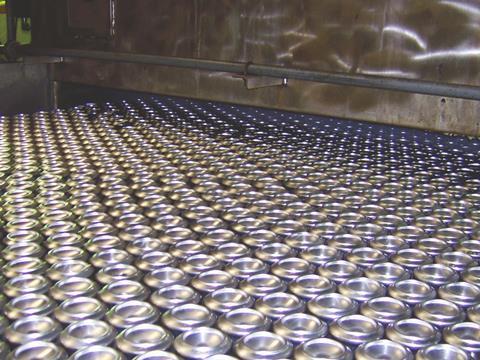 Henkel's low-temperature cleaner for aluminium beverage cans, said to utilise natural gas and reduce carbon emissions by 38%, is set for a worldwide roll-out this year.
The Bonderite C-IC 72000 series is said to operate at 43°C compared to the typical temperature of 60°C offered by conventional cleaners. Although results are said to vary from plant to plant, manufacturers' energy consumption is expected to decrease.
"Our initial line tests show a 32% reduction in natural gas consumption at the plant from turning off one boiler; additionally, a 5% to 20% reduction in water was achieved during recent trials," says Fabio Portelinha, technical customer service manager at Henkel Adhesive Technologies.
Furthermore, evaporative losses are reportedly cut down by decreasing the temperature at which the cleaning bath operates, which also hopes to provide employees with a more comfortable working environment. So, too, are the steel washer and parts expected to maintain a longer lifespan in a less corrosive environment.
The cleaner claims to have generated 75% less foam than standard cleaners in laboratory studies conducted by Henkel. Very little foam is thought to be carried over into downstream stages during the cleaning process, and the rinse stages apparently stay cleaner due to reduced residue in rinse cycles.
Bonderite C-IC 72000 comes in single-pack formulations with a combined cleaner and etchant for various activity levels and market needs, as well as traditional two-pack systems that utilise separate etchant additions.
"The lower temperature product provides very good cleaning performance and has an excellent sustainability contribution," says Mireia Martinez, head of Innovation and Marketing & Strategy for Metal at Henkel Adhesive Technologies. "Bonderite C-IC 72000 series cleaner efficiently removes lubricants from the forming process. Combined with the reduction of natural gas, reduced carbon footprint, and water reduction, this innovative cleaner contributes to greater sustainability throughout the canmaking process."
WeighPack's VF-1200 continuous motion vertical bagger is now available in a 'sanitary version' with high-pressure washdown, designed to work in less conventional environments for such machinery.
Additionally, AIMPLAS offers its own certification to verify the safety and functionality of reusable packaging solutions following repeated washing processes.
TOMRA also announced the compatibility of aluminium and steel cans with the Dutch national deposit return system, effective from 1st April 2023.