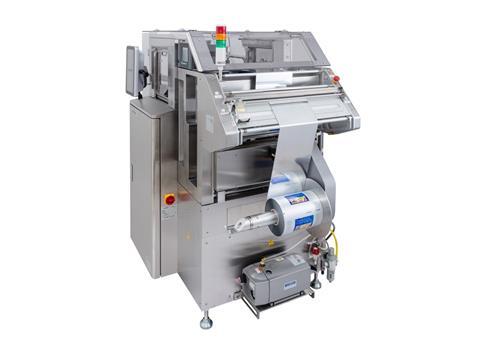 Ishida Europe's new INSPIRA Box Motion vertical form fill seal (VFFS) bagmaker is set to facilitate a lower-cost and flexible operation process for snacks manufacturers – also utilising 17% less energy in operation and 25% less on standby than previous models, according to the company.
Capable of operating in both continuous and intermittent motion modes, the machine features box motion technology that allows for the sealing jaw motion to operate in both vertical and in/out horizontal planes and apply more uniform pressure over the entire area of the jaws. As such, the bagmaker can produce such pack formats as pillow packs, side gusset, block bottom, chain packs, and flat bottom.
Operators can switch between continuous and intermittent motion using the machine's pre-settings, with no part changes required. Other automated features for centring film, managing air fills, and adjusting tensions are also expected to cut down on human error and production waste, as well as maintaining consistency in packaging production.
The INSPIRA Box Motion is also thought to be capable of handling a variety of product and pack formats without compromising seal quality and integrity – this includes recyclable film and paper packs.
Meanwhile, its new splice table light-bar is reported to complete a film splice cycle in 20 seconds and allow for the management of more machines per head – increasing speed and efficiency in the automatic film splicing process. This is expected to lower operational costs, lessen the challenges of manual intervention, and improve upon the speed of previous models by 30%.
Its open structure is designed to enable easy access to the machine's key components, and an HMI screen with multi-level password access provides operators with performance data and diagnostics.
All these features are designed to meet the current demands of snacks production, including the rising popularity of sustainable packaging, variety in packaging sizes and formats, and the necessity of optimised changeover time for short production runs. This comes alongside industry-wide challenges such as rising energy costs, supply chain issues, and shortages in skilled labour.
"The snacks market is being driven by ongoing product and packaging developments, and remains fiercely competitive," said Andrew Green, Snacks Business Unit manager at Ishida Europe. "Our new INSPIRA Box Motion has been designed to allow manufacturers to continually adapt to the latest market trends while offering a new level of automation and efficiency. This minimises the chance of human error and helps to consistently produce quality bags while cutting costs and increasing profitability."
tna Solutions released its tna robag 3e in 2021. The VFFS system can reportedly deliver up to 250 bags per minute with a wastage rate as low as 0.1%. Its capabilities were expanded with the release of the auto-splice 3 in 2022, designed to automatically join a new film to an expiring film roll without disrupting the packaging line.