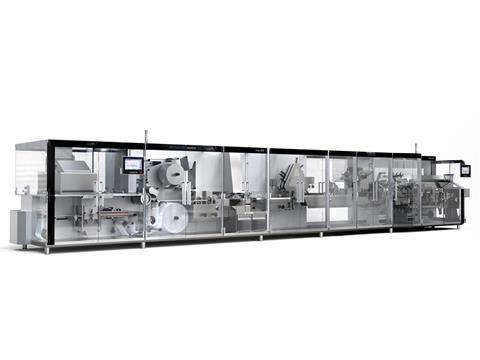 Romaco Noack has unveiled its Unity 600 blister packaging line with a maximum output of 600 blisters and 350 cartons per minute, aiming to optimise efficiency and lower emissions in the production of packs for the pharmaceutical and nutraceutical sectors.
The machine's double-lane high-speed line is comprised of a blister machine with rotary sealing and a continuous motion cartoner, alongside a transfer unit designed for higher cycle numbers, format flexibility, traceability, and energy efficiency. It can process a maximum foil width of 304mm, which produces blister packs 145mm long and 90mm wide.
Die-cut blisters are removed from the die-cutter by vacuum, which is generated in a Venturi process. In comparison to a conventional vacuum pump, this process reportedly radiates less heat – cutting down on the energy needed to cool the cleanroom. Furthermore, since the suction cups on the indexing wheel are only active while the blisters are being transferred, the machine is thought to minimise erroneous power consumption.
The Unity 600's stack transfer unit also ensures that only complete stacks of blisters are sent to the cartoner, according to Romaco. A manual blister top-up magazine has been implemented to prevent disruption, with software mapping expected to track and trace the blister packs from the product feeding unit onward.
Aiming to reduce the carbon footprint of the blister packaging line, both in manufacture and in operation, the line also features an energy monitor to measure power and air consumption as well as CO2 emissions during production. Its smart standby functions are thought to reduce base load without impacting overall equipment effectiveness.
Various components have apparently been made from carbon-reduced ASI aluminium and the machine also features a recycled acrylic glass housing. Its blister forming station contains insulated heating plates with the aim of reducing waste heat in the air-conditioned primary packaging room, and the blister line's motors are said to recover energy.
Romaco reportedly worked alongside Forliance in its offsetting initiatives. A three-lane version of the Unity 600 with an output of up to 750 blisters per minute is also available, as is a 'carbon-neutral' version.
The machine is also said to be compatible with materials used to produce such sustainability-minded alternatives as paper blisters.
Romaco previously presented its Unity 500 blister packaging line at the All4Pack exhibition in 2018, said to have been capable of producing 500 blisters and 150 cartons per minute.
In other news, Sepha developed a new leak test solution for the pharmaceutical packaging industry featuring a patented 3D leak detection technology.
More recently, Schreiner MediPharm's upgraded Smart Blister Wallet allowed pharmaceutical manufacturers to automatically and flexibly track compliance in their clinical trial participants.