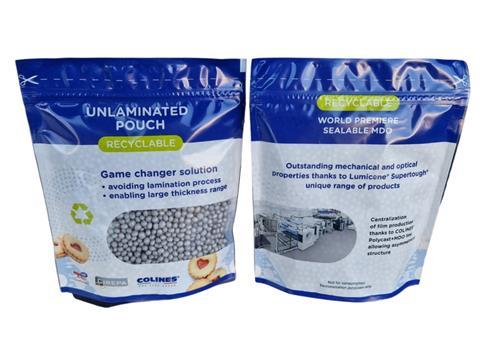 TotalEnergies and COLINES have announced the successful proof of concept for their Unlaminated Stand-Up Pouch, said to be a fully recyclable PE solution intended for food-contact applications.
Expected to be a recyclable alternative to multi-material films, the mono-material pouch apparently decreases packaging thickness, with its asymmetrical structure featuring a low-density sealing layer on one side and a high-density stiff layer on the other. The Machine Direction Orientation (MDO) film has been produced on COLINES' Polycast cast line as well as the MDO line.
The MDO-PE film formulation contains TotalEnergies' Supertough and Lumicene high-density PE to offer a range of thicknesses in line with differing customer needs. Cirepa is then tasked with printing the film and Dry Top with constructing the pouch.
"This collaboration is in line with the recent developments to provide packaging solutions that are fully mechanically recyclable, with the end goal to bring more qualitative feedstock on the market," said Olivier Greiner, vice president, Polymers Europe at TotalEnergies. "This latter could be used as feedstock for the recycling industry and eventually end up as RE:use polymers, part of the RE:clic range supporting our ambition of producing 30% circular polymers by 2030.
"This development was made possible by our broad Lumicene and Supertough product range bringing outstanding processability as well as excellent mechanical and optical properties."
Nicola Lombardini, R&D manager at COLINES, added: "We are proud to be part of this very important project, made possible also by the proprietary COLINES technology in the field of MDO, as well as by innovative and patented solutions for the production of MDO-PE films with cast technology. Our portfolio includes various solutions for the production of "green" films, with a high recycled content or suitable for complete recycling, in order to satisfy practically all market requests."
Another proof of concept was recently completed for the High Barrier Stand-Up Pouch developed by TotalEnergies, Windmöller & Hölscher, and Mitsubishi Chemical Group. The solution is apparently fully recyclable and applicable to contact-sensitive food packaging.
Nescafé has also unveiled an instant coffee refill pouch that reportedly contains 60% less plastic than the lid of a 200g glass coffee jar and is apparently 97% lighter.