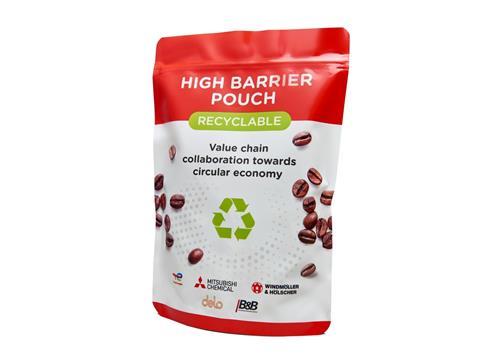 TotalEnergies, Windmöller & Hölscher, and Mitsubishi Chemical Group have supposedly completed a successful proof of concept for their High Barrier Stand-Up Pouch, said to be fully recyclable and applicable to contact-sensitive food packaging.
The pouch hopes to replace multi-material, metallised structures, with the new design claiming to be made of 98% polyethylene and less than 2% of the EVOH required for barrier properties. Reportedly, it maintains the barrier properties of traditional packaging solutions while still being compatible with existing waste streams.
It is said to be manufactured with an MDO-PE film – a combination of TotalEnergies' Supertough, Lumicene high-density PE, and Mitsubishi Chemical Group's Soarnol – and a sealing film, and laminated together by Dettmer Verpackungen. Machine manufacturer B&B then form the material into a stand-up pouch, it is claimed.
"The replacement of non-recyclable multi-material packaging is key to ensure the circularity of plastic materials, bringing more qualitative items on the market to be used as feedstock for the recycling industry," said Olivier Grenier, vice president of Polymers Europe & Orient at TotalEnergies. "We are committed to accelerating in the circular economy by integrating eco-design principles into our product development process, in line with our ambition of producing 30% recycled and bio-polymers by 2030."
"With this product study, we are very pleased to showcase another missing piece in the puzzle towards a true circular economy," said Dr. Jonas Schmidt, head of Product Management at Windmöller & Hölscher. "Our leading knowledge and cutting-edge technology for the production of barrier and MDO-PE films as well as the excellent cooperation between all partners have made this possible."
Domenico De Angelis, general manager Sales Soarnol, P&C MMA Business Group EMEA of Mitsubishi Chemical Group, added: "We are happy to participate in this joint project, offering an innovative and sustainable packaging to the industry. Thanks to the combination of chosen barrier materials, together with excellent machine technology, the needs of high water-vapor-, oxygen- and aroma-barrier are achieved. Furthermore, the structure can be declared by definition as a mono-layer solution, and it is also fully mechanically recyclable."
Hubergroup Print Solutions' HYDRO-LAC GA Oxygen Barrier Coating was unveiled earlier this year. Said to be applicable between film laminates made of the same material as the pack itself, the development is thought to result in more easily recycled mono-material flexibles.
Toppan also expanded its GL BARRIER range to include a mono-material PE barrier intended to create recyclable packaging for liquid products.
Additionally, Iceland partnered with Parkside to package its frozen seafood range in a paper pouch with water-based coatings thought to break down during the re-pulping process.