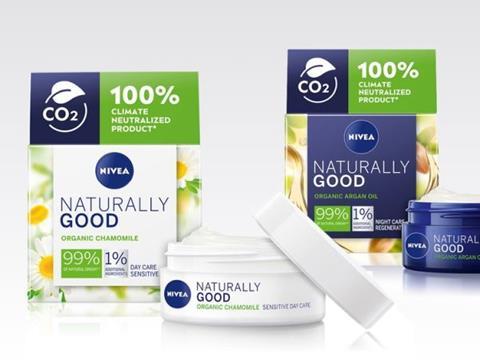 Beiersdorf has launched packaging made from certified renewable tall oil in a step that is described as a first for the cosmetics mass market.
Jars for day and night creams in the NIVEA® Naturally Good face care range are packaged in jars with the same look and feel as virgin plastic, but with 41g less virgin plastic per jar, equating to a reduction of 266 tons of fossil-based virgin plastic per year, according to Beiersdorf.
The packaging is based on the principle of mass balancing, in accordance with the International Sustainability & Carbon Certification scheme. The raw material base for the renewable plastic is certified renewable tall oil, which is a 'second generation' feedstock and by-product of the forestry industry. It replaces crude oil, and in line with the mass balance approach, is integrated seamlessly into the manufacturing process – without the need to establish a separate production process.
The term bio-based refers to products wholly or partly derived from biomass, such as plants, trees or animals (the biomass can have undergone physical, chemical or biological treatment). They exclude materials embedded in geological formations and/or fossilised. By using fermentation and bio-catalysis instead of traditional chemical synthesis, higher process efficiency can be obtained, resulting in a decrease in energy and water consumption, and a reduction of toxic waste. Unlike conventional plastics which are made from exhaustible Fossil Oil, bio-based products are derived from renewable raw materials and can help reduce CO2 and offer other advantages such as lower toxicity.
The new packaging for NIVEA® Naturally Good forms part of the brand's climate neutrality commitments. Converting the packaging to renewable plastic not only has the advantage of conserving fossil resources, but also reduces CO2 emissions. The company says that approximately 76 g of CO2 are saved per jar produced, a reduction of around 60% compared to the fossil-based jar.