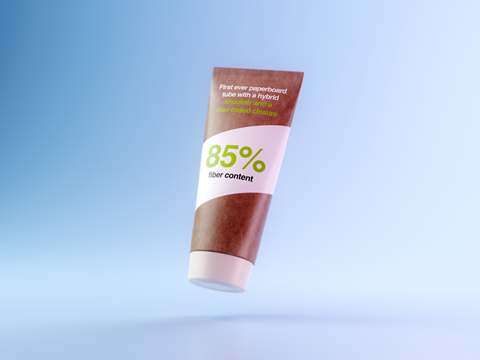 Blue Ocean Closures, Stora Enso, and AISA have created what claims to be the first paperboard tube with a fibre-based closure, apparently consisting of over 85% fibres. The development is being launched at interpack 2023.
All the components of the new tube are designed for recycling. The fibre-based screw cap – developed by Blue Ocean Closures and accelerated through a design project involving Karlstad University and partially funded by BioInnovation – is being applied to Stora Enso's Natura Shape barrier-coated board material; the final pack is assembled by AISA.
By utilising wood fibre, this concept aims to reduce the amount of plastic used in tube packaging and instead facilitate an increase in renewable content. Its reported 85% fibre content claims to be the highest proportion available for a tube design in the current market, and is set to be commercially available in 2024.
It is expected that the tube will be used in the cosmetics, personal care, and home care industries.
"We know that brand owners face challenges when trying to find sustainable alternatives to plastic tubes and believe it is essential to increase fiber content to reach a higher degree of recyclability, reduce carbon footprint, and meet consumer expectations," says Lars Sandberg, CEO of Blue Ocean Closures.
Project manager and CTO Staffan Andersson adds: "The tube solution has come far due to great research collaboration, which is exactly what is needed to achieve more sustainable packaging. Making a tube with shoulder and cap, work with unprecedented high fiber content is possible when all project partners contribute their knowledge and technology."
Visitors to interpack can visit Stora Enso in Hall 9 at stand B20, and AISA in Hall 8A at stand C27.
Currently, it is said that methods such as pyrolysis and solvolysis can be used to remove resins from composite packaging, enabling the reuse of the fibres beneath. For example, a report published by WRAP in 2022 claims that fibre-composite cups achieved a recycling rate of 2.8% in the UK in 2019 and that the country has enough recycling capacity to recycle all fibre-composite cups placed on the market; however, there is no recycling infrastructure in place for on-the-go fibre-composite packaging, and lids recycling in the UK is thought to be close to 0%.
Blue Ocean Closures and Glatfelter's cellulose-based screw caps reached the finals of the Sustainability Awards 2022 under the 'Recyclable Packaging' category. This year, the company collaborated with Swed-jam and Research Institutes of Sweden (RISE) to lessen the impact of metal screw lids on the environment by producing bio-based fibre lids for jams, smoothies, compotes, and other lidded food and beverage products.
Similarly, Unette Group previously unveiled its Tear n Tuck re-closable tubes to decrease plastic usage by 70% in comparison to traditional screw cap tube solutions. It also sought to reduce weight, cost, and environmental impact.
If you liked this article, you might also enjoy:
McDonald's Director of Sustainability in Europe on the company's approach to packaging sustainability
McKinsey on whether or not on-pack sustainability claims affect consumer spending
Perspectives from industry-leading experts on the EU's Packaging and Packaging Waste Directive revisions
A deep dive into the most important packaging sustainability trends and solutions