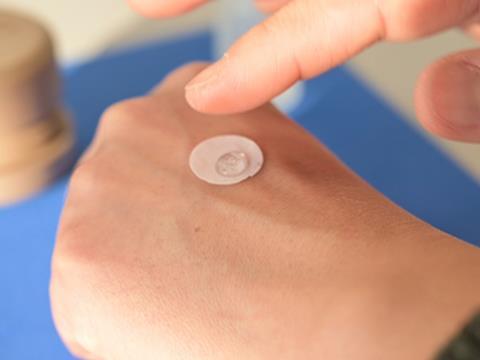 A new technology that converts beauty products such as moisturiser into confetti-like 'paper' – anticipated to reduce both packaging waste and carbon emissions in the beauty industry – has been developed by researchers at the University of East Anglia (UEA).
To form the material, products like suncream, shampoo, conditioner, and moisturiser can undergo treatment to remove 98% of their water contents without compromising the stability of delicate active ingredients. In turn, a drop of water can be applied to instantly rehydrate it into a cream or lotion.
"Most cosmetics and toiletries contain up to 95 per cent water, leading to heavy units by volume and bulky packaging," explained lead researcher Professor Sheng Qi from the School of Pharmacy at UEA. "Every year, 120 billion units of cosmetics and toiletries are packaged and shipped globally, so the industry has a huge carbon footprint.
"The technology that we have developed uses a no-heat process to transform a range of water and oil-based beauty and skincare products into small discs of paper-like material."
It is also claimed that the new technology allows manufacturers to eliminate preservatives in their beauty products and improve their shelf life.
"We originally developed this technology for the pharmaceutical industry, but it quickly became clear that it could really help reduce the carbon footprint of the beauty and skincare industries," Professor Qi continued. "Removing the water and oil from toiletries like moisturiser, sun cream, and other hair and beauty products means that we can not only improve their shelf life but hugely reduce product and packaging weight, transportation costs, plastic waste and the need for preservatives.
"Above all, it dramatically reduces their carbon footprint, which is better for the environment. We hope it will help the beauty industry achieve Net Zero carbon targets and sustainability goals, without compromising product quality and performance."
Although large-scale production of the new technology is not yet thought to be possible in the UK, Professor Qi believes that removing the weight of water from products – and in turn, the bulky, often plastic packaging used to contain them – will reduce carbon footprints and enable the beauty industry to pursue its net zero goals at a faster pace. A full life cycle analysis of the process from production to distribution is apparently being planned to fully understand its carbon footprint and evaluate its cost-effectiveness.
Packaging Europe recently spoke with Artur Litarowicz from P&G Beauty and Nick Dormon from Echo for a brand and design perspective on the potential of waterless products such as shampoo bars and liquid concentrates.
Furthermore, BBDO Guerrero's open-source 'dissolving bottle' shampoo bar is designed to resemble a bottle of packaged shampoo, with the company aiming to raise awareness of plastic pollution amongst consumers in the Philippines.