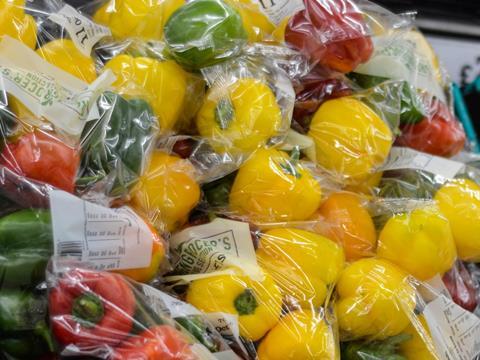 Seventeen projects have been selected to receive a total investment of £3.2 million as part of UKRI's Smart Sustainable Plastic Packaging (SSPP) Challenge in a bid to improve the use and management of plastic packaging in the UK. Its choices range between seaweed-based biomaterials, reusable packaging systems, and an AI-based global map of marine plastic pollution.
Several the projects fall under the 'alternative materials' category, which seeks to assess a range of different plant-based, biodegradable polymers for their viability in replacing fossil fuel-based plastics. They are set to be applied across products in the cleaning, personal care, food, and takeaway food sectors with the aim of reducing conventional plastic consumption and cutting down on difficult-to-recycle plastic waste.
MarinaTex aspires to develop a sustainable, marine-based, compostable 'polybag', IFF CoPack, for consumer products in the travel industry. Developed in collaboration with industry partners, the prototype bags are made from seaweed and seafood waste and aim to be compliant with both existing waste facilities and industry requirements for the packaging's hygiene, transparency, and protection. Its next steps will be testing amongst users.
Meanwhile, PlantSea's PlantSea-Pack is set to replace single-use PVOH sachets and bottles with seaweed-based film capsules. These are thought to be regenerative and harmless to nature and aquatic life, as they claim to be water-soluble; they are also expected to reduce packaging – and therefore the transit weight of products high in water content – as well as eliminating non-recyclable plastic parts in single-use formats.
Xampla will use its funding to develop and scale up the manufacture of its plant protein-based coating for paperboard packaging applications. Its innovative materials intend to serve as a sustainable, recyclable, and home- and industrially-compostable replacement to synthetic polymer coatings while retaining their functional properties. Its applications reportedly include takeaway trays and boxes for the foodservice market, alongside wider applications to paperboard in FMCG and cosmetics packaging.
The product is designed for applications in personal care, particularly liquid and powder concentrates for shampoos, conditioners, and creams, amongst others. Going forward, the project will assess PlantSea-Pack's feasibility, as well as contribute towards the scaling-up of the capsules and refill-at-home systems for cosmetics, cleaning, laundry, food, and drink products.
Algreen's bio-based, multi-layer flexible pouch packaging, claiming to be both biodegradable and recyclable, is designed to mimic the aesthetic and performance of single-use plastic film utilised in the cosmetic, food, and fashion industries. The project is set to test Algreen's performance and durability, assess its suitability for at-scale manufacturing and application to consumer goods products, and build the evidence base to support its market launch, as well as assessing its environmental performance through a life cycle assessment.
Additionally, other projects aspire to stimulate reduce and refill to cut down on single-use plastic packaging in everyday shopping trips and 'on the go' food and beverage consumption. These solutions range between developments in logistics, cleaning and hygiene, and changing consumer perception and behaviour regarding packaging solutions.
CLUBZERØ, formerly known as CupClub, offers a patented 'Sustainable-Packaging-as-a-Service' (SaaS) concept that has now been expanded with reusable food containers and an IoT-enabled process and infrastructure. It involves the delivery, collection, washing, and returning of food and beverage containers between businesses and consumers, all functioning under a digital ID attached to the packaging.
Apparently, this process can operate at a competitive price in comparison with single-use plastic alternatives while cutting down on carbon dioxide emissions. Now the project aims to expand its range of available sizes, formats, and applications for its food containers.
In partnership with RECOUP and Buckinghamshire Council, the LitterLotto app is hoped to incentivise the appropriate disposal of single-use plastic packaging using a combination of proprietary technology and behavioural science. This includes the 'Bin it to Win it' approach, in which consumers are entered into a prize draw for photographing themselves throwing away their litter correctly.
The solution is also set to provide concise and simple information to facilitate consumer education around the correct ways to recycle end-of-life plastic packaging. The feasibility project aims to build further developments into the app to guide consumers to use the correct recycling bins '@home'.
A smart reusable system has been developed by Cauli with the intention of improving users' experience with borrowing and returning reusable cups. It seeks to help the café industry transition into reusable systems through a convenient and accessible process of sourcing, returning, collecting, and washing reusable packaging.
Its REusable cup dispensers and REturn kiosks function through an automated system that can reportedly be integrated into vendors' point of sale. Reusable cups can be borrowed free of charge and returned to be washed and redistributed.
Let's Go Zero's weekly.shop circular supermarket concept is thought to completely eradicate single-use packaging. It utilises reusable ZEROWARE containers, which are apparently made from 100% recycled materials and can be used for four years before being recycled again. The system was conceived with consumer convenience in mind; consumers can sign on to a flexible subscription for their orders to be filled in local hubs, with empties collected for cleaning when the next order is dropped off.
This project will support the service's final concept development and test its containers to verify the market proposition.
Conversely, TOPUP TRUCK's mobile, zero-waste shop brings refill stores to consumers' doorsteps via an electric vehicle. Designed to enable a convenient transition into refill shopping, the solution aims to be accessible, fun, and community-centred, negating the requirement of transporting heavy containers to existing stores while allowing consumers to buy in large quantities without pre-planning.
In partnership with University of Arts London, the project will conduct a study into the optimal method of carrying out a mobile refill shop in regards to consumer experience and communications to widen the adoption of refill solutions.
CodiKoat's antimicrobial technology, Cydal, hopes to reduce the environmental impact of high-temperature washing or chemical sterilisation used in reusable food packaging systems with its antimicrobial technology. This is applied during the packaging process to kill viruses and bacteria.
The project will develop and trial new reusable packaging formats compatible with Cydal and work with supermarkets and consumers to evaluate the viability of applying the technology to single-use packaging.
In another project, Blow Moulding Technologies will develop software to support more sustainable packaging materials and designs in bottle applications. As the plastic bottle industry is thought to have a global worth of £129 billion and a manufacturing rate of one million per minute, an automated design process expects to limit material usage to the essentials while supporting the faster uptake of new materials and designs featuring recycled content.
In the same vein, Jara Partnership is tackling the 50% of bathroom-related packaging said to end up in landfill or energy from waste with a convenient refill system for personal healthcare products, a solution expected to eradicate unnecessary single-use plastic in personal care products.
Thirdly, the remaining projects share a goal of enhancing the recycling of plastic in the UK and increasing the use of recycled plastics. New sorting and recycling technologies, digital approaches to packaging design, and concepts aiming to encourage consumers to recycle at home fall into this category.
Recycleye offers its GRIP-R concept, or Gripper Innovation for the Picking of Recyclables. Powered by AI, this 'cost-effective' plastic waste sorting solution apparently comes with an enhanced gripping function to tackle contamination caused by films and flexible plastic packaging. It aims to build upon its own AI system and advanced robotics technology to improve its sorting capabilities, thus refining the quality of recycled plastic streams and improving the waste industry's handling capabilities.
The CircuPlast technology team, featuring members from Stopford and the University of Birmingham, uses hot compressed water as a green solvent in the conversion of problematic PET waste such as pots, salad trays, and tubs into high-value chemical compounds. These can then be implemented into the production of new PET plastic and contribute towards a circular economy.
Sustainable Packaging Products' recyclable, paper-based, biodegradable frozen food packaging – set to be applied through pouches and bags – is expected to serve as an alternative to single-use plastic.
Circular 11 has developed a process to create construction materials from film-based and cross-contaminated plastic recycling streams that cannot currently be recycled. As it requires highly consistent feedstocks with PPE waste, the project anticipates the expansion of compatible low-grade plastic feedstock materials through the development of a dynamic process control system; this is not expected to impact its product quality.
The process control system could also be licensed out to other manufacturers in the future, which is hoped to facilitate the acceptance and recycling of a wider range of mixed plastic streams in the extrusion sector.
One project from Plastic-i also combines satellite data and artificial intelligence to provide a global plastic map, which intends to track marine plastic pollution and facilitate its removal. With around 14 million tonnes of plastic waste in counting entering the oceans each year, its goal is to classify floating debris and inform decision-makers and clean-up operators with actionable insights, aiming to optimise efficiency and measure the efficacy of interventions.
All seventeen projects are expected to contribute towards the targets of the UK Plastics Pact, with the SSPP challenge claiming to represent the UK government's largest investment into sustainable plastic packaging.
"SSPP is working to make plastic packaging fit for a sustainable future, supporting over 70 research and innovation projects focused on consumer plastic packaging," explained Paul Davidson, challenge director for the SSPP challenge.
"Taken together, these latest SSPP-funded projects offer up exciting opportunities to tackle plastic packaging waste holistically by reducing it at source, encouraging the rollout of reuse and refill business models, and driving more effective and sophisticated recycling and pollution monitoring and measuring."
Recent winners of the Afri-Plastics Challenge, which aims to cut down on recycling pollution in Africa, included recycling businesses in Togo and Nigeria, bioplastics made from invasive plants from Lake Victoria, and a process of waste conversion to create safe and affordable cooking fuel in Kenya.
European innovation platform Bionanopolys has also launched an open call to give five projects funded access to its 14 upgraded pilot plants and complementary services for the development, testing, and/or scaling up of bionanomaterials.