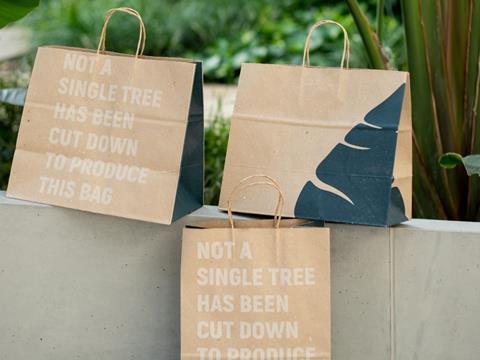 Releaf Paper, a Ukrainian-based start-up that uses a patented technology to process fallen leaves into cellulose for paper production, has launched its paper bags for the EU and UK markets with a dedicated webstore.
Releaf's patented technology allows cellulose to be extracted from fallen leaves collected mostly from urban areas, rather than forests where they form a more vital part of the ecosystem. The cellulose fibre is then used in the production of paper, which has applications including paper bags, cardboard, and corrugated boxes, as an alternative to wood pulp. According to Releaf, its paper is biodegradable and recyclable.
As of September 14th 2022, Releaf has launched a branded webstore aimed mostly at small- to -medium-sized businesses, which will now be able to buy Releaf paper bags from any EU country or from the UK. The key audience for the products is apparently offline and online stores that sell cosmetics, clothes, handmade goods, organic food, and other consumer goods.
Olha Sobolenko, co-founded of the Releaf Bags e-commerce project, comments: "We made it possible for any businesses or individuals to get a piece of our innovation and test how woodless bags could look and could be used.
"Our bags are very natural, biosafe, stylish and strong – the bigger one supports up to 8 kg of weight. Releaf's technology allowed us to reduce CO2 emission by 78% during the production of material, and what our customers love most of all – Releaf Bags are decomposing within 60 days only.
"We believe that customers in the EU will really like product properties and sustainability features of Releaf Bags and will support us in our mission to accelerate the world's transition to wood-free packaging."
According to the company, Releaf Bags' webstore, which features a multilanguage interface, offers free delivery within the EU and the UK. Releaf adds that it uses local warehouses within the EU to ensure delivery to customers within 3 working days.
Looking ahead to the rest of 2022, Releaf says it is planning to expand its product portfolio available for online sale, increase the volume of production, and add delivery to the USA, Canada, Asia, and Australia.
In May, Releaf was awarded $100,000 in funding and mentorship from Google as part of its Google for Startups Ukraine Support Fund. Releaf's patented technology was also a finalist in the Renewable Materials category of Packaging Europe's Sustainability Awards 2022.