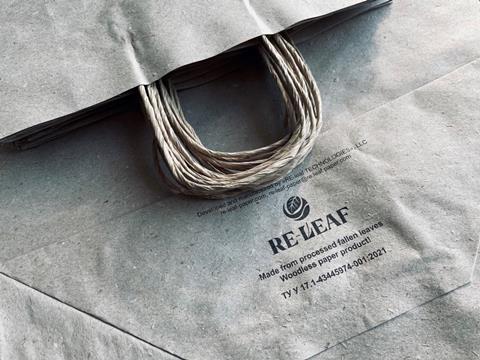 Releaf Paper, a Ukrainian company that extracts cellulose fibres from fallen leaves to make paper packaging, has been awarded $100,000 in funding and mentorship from Google as part of the Google for Startups Ukraine Support Fund.
In March, Google announced a $5 million Google for Startups Ukraine Support Fund with plans to award equity-free, non-dilutive funding to around 50 Ukraine-based start-ups on a rolling basis throughout 2022. The start-ups are also invited to use the Google for Startups Campus Warsaw as a temporary office space, and will receive mentorship, product support, and Cloud credits from Google.
Eligible start-ups must have been founded and based in Ukraine before February 24th, 2022. Start-ups must also have surpassed the minimum variable product (MVP) stage with proven traction, such as products being on the market and generating early revenue. Google says that companies with a social impact mission will be prioritised.
Google intends for founders to use the non-dilutive cash award to continue growth or resume business operations that have been impacted by the war in Ukraine following Russia's invasion in February 2022. The company also expects recipients to pivot products to address new challenges.
"Support for Ukrainian-led startups will help them succeed and build the tech that their country needs now. And as the region starts to recover, startups and tech companies will be key to rebuilding the Ukrainian economy, creating jobs, and positively impact the cities they make their homes," Google explained when announcing the Fund.
Google has today announced the initial recipients of the Google for Startups Ukraine Support Fund, with Releaf Paper being one of the first companies to be awarded the $100,000 in funding and other support measures.
Founded by Valentyn Frechka and Alexander Sobolenko, Releaf started as a secondary school project to extract high-quality cellulose from fallen leaves for Frechka, who was a member of the Junior Academy of Sciences of Ukraine at the time.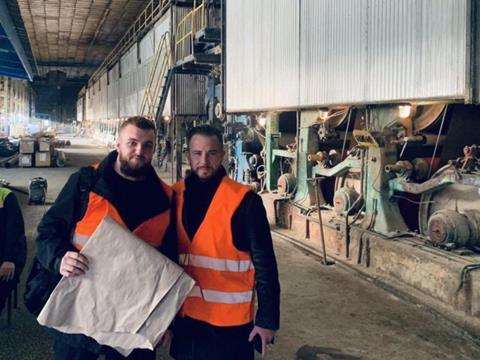 The Releaf concept has since evolved into a four-step process. Firstly, the fallen leaves are collected from urban environments where they would otherwise be considered waste; the leaves are then cleaned and processed in a chemical reactor to extract the fibres. Next, the fibres are washed and ground in a process that does not use sulphur or chlorine chemical components. Finally, the fibrous pulp is mixed with bio-based fillers to produce rolls of paper.
Releaf's paper production process reportedly offers 33.22% lower CO2 emissions compared to the production of paper from wastepaper, as well as a 79.32% reduction compared to the production of paper from wood pulp.
Sobolenko, one of the co-founders of Releaf says: "Customers in retail stores would like to see less plastic packaging but more natural and biosafe [products]. We promote an idea that paper must be woodless and people keeping our product are proud to feel contribution in forest conservation."
However, Sobolenko told Packaging Europe that it was too late to evacuate Releaf's warehouses when Russia invaded Ukraine in February. With the focus being on protecting and supporting its employees, one of Releaf's paper mills suspended its activities; the Releaf team also lost communication with another vendor based in Kharkiv. The company were unable to finalise projects with major cosmetic brands, NYX and Kiehl's, in the aftermath of the invasion, but set out to sell some of its paper stock and donate the money to Ukrainian refugees.
Sobolenko highlights the importance of supporting Ukrainian businesses. "The best thing the packaging industry can do to support its Ukrainian colleagues is to continue buying "Made in Ukraine" products," he explained in the same interview. "Not a single entrepreneur is caring now about profits, but everyone is trying their best to save the country's economy and provide other people with means for living.
"So, by buying Ukrainian paper, packaging, or services, other companies contribute immensely to the survival of the Ukrainian economy and human lives."
The Google for Startups Ukraine Support Fund appears to share a similar goal. Overall, Google says that the funding and mentorship are intended to help Ukrainian entrepreneurs maintain and grow their businesses, strengthen their community, and build a foundation for post-war economic recovery.
In a LinkedIn post sharing the news, Frechka comments on the Google funding: "Circumstances in Ukraine have put our project in a state of uncertainty for some time, but in order to be able to see the future, we continued to work. Therefore, we are pleased to share the first news about the first fruits of long work.
"Our innovative project Re-Leaf Paper Technology was recognized by Google as one of the best startups in Ukraine and will receive funding from the Google for Startups Foundation.
"It is gratifying and strange to receive such recognition as the only manufacturing company in the cohort of IT businesses. We are sure that Google cannot be wrong!"
Eligible companies can continue to apply for the Google for Startups Ukraine Support Fund here.