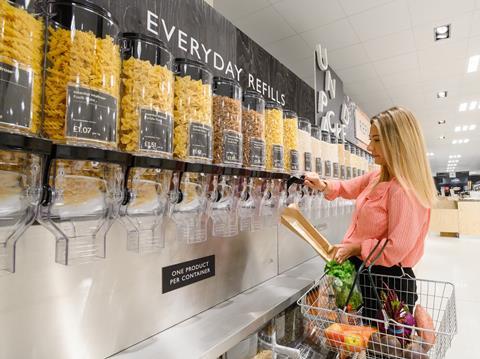 In its 2019 Global Food and Drink Trends report, analysts Mintel predict that modern takes on sustainability, health and wellness, and convenience will reshape the food industry. Libby Munford takes an in-depth look at the changing demographics challenging the food packaging industry.
Alongside new initiatives such as packaging-free aisles (fad, or likely to become a permanent fixture?) there is an ever-present rise in ageing populations and single households globally, which brings with it demand for more single-portion packaging in order to add functionality and combat food waste.
These trends on two opposing sides of the coin hint at a future that may be symbiotic in nature: minimal (or no?) packaging on one side, versus the need for packaging that is both functional and convenient.
This simplistic juxtaposition points to the diversity and flexibility of the packaging industry as a whole. We talk to key players from across the value chain to put these challenges into focus. Can these trends be symbiotic, or will the future demand one or the other?
Package-free?
We are starting to see package-free trials and aisles across Europe, to address the rise in focus on sustainability. The rollout of bagless fruit and vegetable aisles, as well as refill stations for goods such as pasta, rice, grains and cereals, is increasing among supermarkets. Ultimately, these are on a small-scale basis and we are yet to benefit from long term results from these trials, however they are hitting mainstream media and piquing consumer interest.
The supermarket Morrisons is encouraging shoppers to bring their own containers for meat and deli products, whilst Waitrose has launched a packaging-free trial with refill stations for certain foods at its supermarket in Oxford, UK. Stores such as Original Unverpackt in Berlin, Precycle in Brooklyn and more recently, Bulk Market in Hackney, London are encouraging consumers to bring their own tubs, jars and containers to take produce away in.
Hannah Thomson, retail analyst at GlobalData, comments: "Amid growing awareness of the harmful effects of single-use plastics on the environment, retailers are keen to prove that they are acting responsibly and responding to consumers' concerns. After initial set-up costs, retailers could benefit from selling certain goods unpackaged and removing packaging costs. Waitrose has said that its 'Unpacked' trial resulted in cost savings from goods arriving instore in re-usable containers."
GlobalData's monthly survey of 2000 UK respondents found that 44.1 per cent of 16-24 year olds who had purchased food and grocery products in July had used a refill station in the last 12 months, compared with 35.0 per cent of 25-34 year-olds and just 25.4 per cent of 35-44 year-olds.
Thomson says: "Encouragingly for retailers, the least-cited reason for not wishing to buy unpackaged items is a preference for branded products. This leaves retailers free to switch suppliers in search of the best margins, and should give them the confidence to use suppliers which are able to deliver in bulk instead of in packaging, and not worry about customers' brand loyalty."
Sean Field, solutions category manager, CHEP sees a future with, "More food dispensers which comprise of an 'Eco Aisle' within existing supermarkets; more start-ups harnessing consumer preferences for 'weigh and save' in increasingly imaginative ways; and revisiting and refining products that were ahead of their time.
For example, refillable fabric conditioners were introduced in 2010 but were quickly abandoned due to lack of demand. "The optics are now much better for products like this and exploring others – it's not beyond possibility that we may see milk vending machines in stores which are more sustainable and are much easier for staff than replenishing the shelves," enthuses Sean Field.
Darcy Simonis, Group Vice President of ABB's Food and Beverage network explains what the rise in packaging free stores could mean for food manufacturers. "As packaging free stores display their produce in bulk, with no packaging to protect it, the risk of contamination is increased. Food manufacturers need to ensure that hygiene procedures are thorough and that products are treated with greater precautions to prevent contamination in the factory, before they reach shop shelves.
"One way that manufacturers can ensure there is no contamination of their produce before it reaches the store, is through traceability. The concept of 'farm to fork' means that consumers have become more inclined to buy produce if they know where it has come from and have information to prove that. Usually, product information is on product packaging and labelling, which is not possible in a package free store, so barcodes on food containers in the store could contain the traceability data for that product."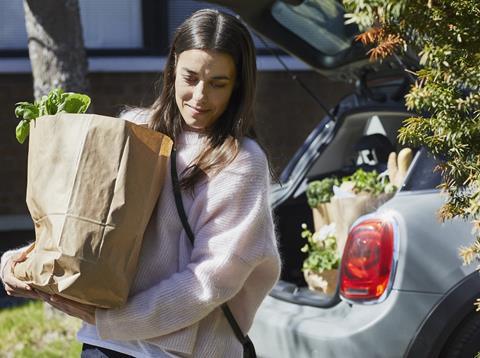 Online groceries and meal kits
A recent Packaged Facts analysis of the global market for food e-commerce from the Freedonia Group anticipates intense near-term growth – albeit from a small base – supported in part by packaging innovations that are making online grocery-shopping a more attractive option for retailers and consumers alike.
The report highlights that consumers have been slower to the uptake with online grocery shopping than with e-commerce for consumer goods – such as apparel, books, and electronics – in large part because they are less willing to pay more for essentials like groceries, but also because they do not trust employees to pick out items, particularly fresh produce and meat, the same way they would, or worry that items could spoil, spill, or get damaged in transit.
As e-grocers explore high-tech solutions such as delivery drones and cashierless stores to entice consumers, food and beverage brands are looking to packaging to enhance consumer convenience and confidence in the online grocery orders they ultimately receive.
For example: by reducing packaging weight and right-sizing packages so they take up less space help lower shipping costs, whether to a physical store or direct to a consumer, active and intelligent packaging components such as antimicrobials, biosensors, smart labels, and gas scavengers – widely used in meal kits – can both help to preserve freshness, quality, and taste, and serve to monitor and track inventory, and advances in film technology are driving a shift from heavy, rigid materials like glass to flexible ones such as recyclable polyethylene or biodegradable polylactic acid, which can improve efficiencies while also boosting sustainability.
Phil Brown, managing director, Fortress Technology Europe says today's consumers are looking for high-quality meals that will fit into their fast-paced lifestyles, without having to compromise on health or flavour. As a result, convenience food, specifically meal kits, is anticipated to continue growing in popularity throughout 2019 and beyond.
Convenience meal kit offerings deliver all the ingredient components required to make a fresh meal at home, without the hassle of weighing, measuring or shopping for each item individually. According to Phil Brown, in order to accurately inspect meal kits and ensure they are free from contamination, producers need to ensure their metal detection solution is sophisticated enough to cope with not only different kinds of foodstuffs simultaneously, but also different types of packaging.
He explains: "Each type of food – protein, salad, vegetable, carbohydrate, etc. – has different conductive properties and therefore behaves differently in a metal detector. For example, some proteins are easier to inspect cooked than raw; and salad and vegetables will be easier to inspect than protein. The same principal applies to packaging; metallised foil is more problematic than plastic, for example. And if each item is individually wrapped before being placed into the final box, then the overall packaging will be thicker and sensitivity might be affected."
It's clear that new trends have a knock-on effect down the supply chain, and new challenges and issues arise around the packaging of new food concepts.
Single-portion and ready-meal culture
Kemira, a company with a strong focus on chemistry (adding functionality and strength to paper and board products, whilst ensuring safety and hygiene for food packaging) commissioned an international consumer survey in April 2019 to ask consumers in the US, Germany, China and Finland about food packaging.
Sami Puttonen, senior manager, pulp and paper, Kemira discusses the results further. "The main trends which were highlighted were sustainability and food waste, and how packaging can play an important role in this. We believe if the packaging is not reusable, it should be recyclable and where possible made from renewable materials." Consumers are very aware of these issues today, underlines Puttonen.
He also points to the fact that single portion and ready meal culture is getting stronger. "It has been rooted in the western countries for a long time, but it is rising fast in the developing countries. This has a dramatic effect on packaging as there are more single-households than ever." At the same time, functionality of packaging is becoming ever more important due to ageing populations.
Responsible packaging
Looking ahead to the approaching new decade, shifting consumer demands will drive changes in packaging and, along with those changes, the way that manufacturers inspect packaged goods for quality and safety.
According to Simon King, head of global sales, service and marketing for Eagle Product Inspection, new packaging and accompanying x-ray inspection capabilities will be designed based on what consumers seek and expect.
"Consumers are already impacting changes in packaging, such as the push for more sustainable materials and packages that meet a particular need, like single-serve packages for on-the-go consumption and multi-compartment packaging for convenient ready meals. You can expect more of that in 2020 and beyond," King says. "Inspection technologies are keeping pace with and are often in front of such market forces to help manufacturers reach their goal of providing safe, satisfying products."
Responsible packaging stands out as a trend to King: more than two-thirds or 68 percent of consumers say it's important for them to choose 'responsibly packaged' foods or beverages, according to a recent Evergreen Packaging report on packaging trends. Responsible packaging encompasses various elements of packaging, including more sustainable materials and formats, as well as products packaged in a way that ensures quality, integrity and safety for the end-user.
Accordingly, many companies have announced packaging changes as part of their overall drive toward responsibility and are working with or pursuing new materials and forms, including packaging made from renewable materials or recyclable materials.
"X-ray systems driven by powerful software allow manufacturers to provide more information about the products and trace back packages to the point of inspection, with important production information and images. It's not mandatory yet to have item-level traceability for food and beverage products, but with the increased complexity and demands on the supply chain, manufacturers are looking for solutions to meet these needs," says King.
It remains to be seen how consumer demands will continue to affect the packaging industry in the future, with such diverse and polarised needs to meet. However, it is clear to see that the industry as a whole can rise to the fast paced and increasingly challenging demands of the marketplace.