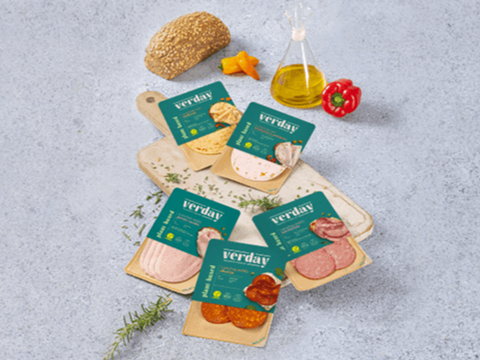 Mondi is working alongside Noel Alimentaria to repackage its sliced meat and plant-based food products in a recyclable, paper-based tray and reduce the company's plastic consumption.
Noel Alimentaria is set to adopt Mondi's PerFORMing paper-based tray into the packaging for its Verday brand, which is currently supplied to Nordic markets for ham and charcuterie products and utilised by Marks and Spencer's for its 'Plant Kitchen' range.
Made with 80% paper, the PerFORMing tray seeks to reduce its plastic content in comparison with the industry standard; it is designed for recycling and has passed recyclability tests conducted by Papiertechnische Stiftung (PTS).
It is said to be particularly applicable to shallow food trays due to its high symmetrical stretch and uniform formability. Meanwhile, its barrier properties reportedly protect the contained product from moisture and oxygen to keep food fresh throughout the storage and distribution process.
Falk Paulsen, Sales & Business Development director at Mondi, says: "By working very closely with Noel Alimentaria from the outset, we were able to ensure we delivered the best possible option for the entire range of meat and meat free products, using a tray made from renewable and responsibly sourced material that still provides maximum protection for the goods."
"We deliver our premium foods across Europe, so the right packaging is essential in order to maintain the freshness of the products properly and protect them," adds Maria Sánchez, corporate marketing director at Noel Alimentaria. "At the same time, sustainability is on top of our agenda, and it was a pleasure to work so closely with Mondi to find the most suitable solution. We were able to run the new paper-based trays on our existing machinery and will now be using the same solution for our further ranges of ham and other meat products."
In another collaboration, Mondi assisted Angulas Aguinaga with its transition into a recyclable, paper-based secondary packaging for its Krissia brand chilled surimi sticks, hoping to increase the recyclability and decrease the use of plastic in its packaging designs.
Iceland also partnered with Parkside to replace the LDPE bag for its frozen seafood range with a recyclable paper pouch featuring water-based coatings thought to break down during the re-pulping process.
Other organisations have instead aspired for more recyclable forms of plastic, as with Amcor's recyclable PrimeSeal and DairySeal Recycle-Ready Thermoforming Films with memory retention technology, set to package meat, fish, and dairy products. This is thought to have an 80% lower carbon footprint than standard PE and PA films.