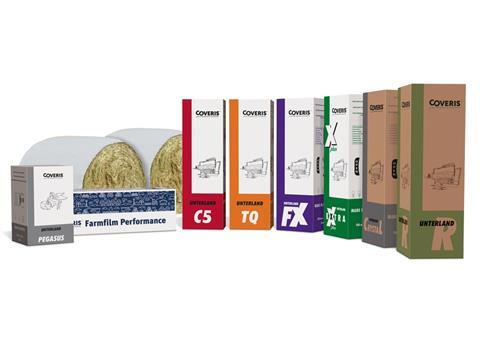 Coveris will showcase its new stretch films for silage bale wrapping – offering recycled content, transparency, and an apparent reduction in carbon footprint between the two solutions – at Agritechnica 2023.
Unterland R is said to contain at least 30% post-consumer recycled content sourced from agricultural films, which are in turn collected under the ERDE recycling initiative. As such, it is thought that twenty litres of crude oil can be saved per roll of film.
Coveris also claims that, if farmers adopt Unterland R, they can cut their carbon footprints by 23%. After testing the materials, the company's global partners report that the multi-layered stretch film maintains its protective properties in a range of weather conditions.
Meanwhile, Unterland Crystal is described as both transparent and recyclable. According to Coveris, it maintains the same quality as standard-coloured films while achieving 'considerable savings' in the recycling process.
The silage film does not require any adjustment to be applied to any wrapper type and is said to protect bales against external factors (e.g., bird damage) for a guaranteed outdoor storage period of one year. Customers in Austria, Germany, the Netherlands, the UK, and other European countries have apparently voiced their approval of the film.
Agricultural Films sales director Martin Wildinger commented: "At Coveris we built our entire sustainability strategy around the vision of No Waste as we believe that fighting waste in all its forms is the driving force of a more sustainable future. Our Unterland stretch films fit into this strategy well and offer the agricultural market what it has been looking for years – a sustainable yet highly effective and protective film for silage bale wrapping."
This year's Agritechnica show will take place in Hannover, Germany, from 12th – 18th November.
Unterland R was first launched last year, with the company claiming that its Kufstein factory in Austria, where the film is produced, runs entirely on renewable resources.
Since then, Coveris has worked with Notpla to apply a plant-based barrier coating to takeaway cardboard boxes at the Erste Bank Open ATP 500 tennis tournament in Vienna.
Nominees for our Sustainability Awards have also made use of agricultural waste for new packaging solutions in recent years, from traceless' alternative to bioplastics in this year's line-up to envoPAP's envoBOX in 2022 and Mi Terro's home-compostable packaging materials in 2021.
If you liked this article, you might also enjoy:
The L'Oréal approach to packaging sustainability
What steps is Apple taking to make its packaging more sustainable?
How did Brazil achieve its 100% aluminium can recycling rate – and can it be replicated in the EU?
Experts have their say on the EU's Packaging and Packaging Waste Directive revisions
Also, if you're interested in packaging sustainability, you will want to attend our Sustainable Packaging Summit in Amsterdam on 14-15 November. The Summit brings together leaders and pioneers from across the industry to align strategically, learn, network, and create a critical mass to accelerate change. You can learn more by clicking here, and you can buy a ticket to attend here.