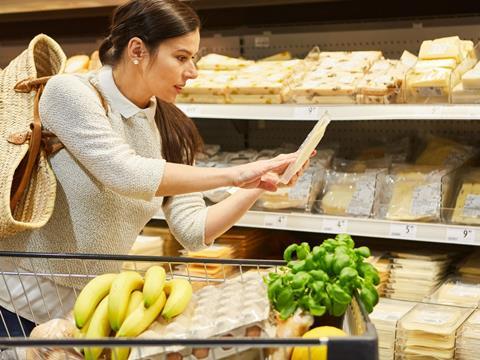 Research conducted by Amcor has revealed that European consumers value both transparency and effective sealing in their hard cheese packaging, yet some report that it is inconvenient or impossible to recycle at end of life.
A survey was conducted amongst 3,176 consumers of hard cheese in the UK, France, Germany, Italy, Sweden, and the Netherlands in an effort to understand how their purchasing decisions are affected by the packaging of hard cheese products. Amcor contextualises the study as a response to growth in the European hard cheese market alongside increasing demand for recyclable packaging, which it attributes to both consumers' and producers' interest in sustainability and the European Commission's proposed revisions to the Packaging and Packaging Waste Directive.
According to the results, 89% of consumers value transparent packaging as a means of judging the appearance, size, and freshness of the cheese for themselves. Opaque packaging is reportedly a deterrent to buying the product, as it is considered a financial risk to purchase the product without a clear idea of its quality.
So, too, do 70% of consumers identify the sealing of the packaging as the most important feature of a pack. Resealable solutions also proved to be popular, with 76% of French participants and 53% of respondents overall highlighting its importance in their decision to purchase a cheese product.
"Transparent and resealable packaging that showcases the quality of hard cheese products and keeps products fresh are key packaging attributes for hard cheese consumers," explained Yi Jiang, Marketing Director Dairy, Amcor EMEA. "Our research also shows that consumers' experience with using resealing features is not always positive, which can cause frustration, and indicates room for brands to improve their consumers' packaging experience."
Furthermore, 80% of respondents claim to recycle their hard cheese packaging in accordance with the instructions of their region, especially in Italy and Germany. 22% consider the reported recyclability of a pack to be its most meaningful claim to sustainability, while 16% seek out minimal amounts of packaging.
Respondents that do not recycle their packaging gave a variety of reasons for doing so, with a quarter of the total number of consumers asked stating that separating and cleaning their packaging for recycling was too inconvenient. 37% reported that they did not know how to recycle, while 28% do not have access to a local recycling stream.
Additionally, hard cheese products packaged in paper, while uncommon, are more closely associated with high-quality and artisanal products than eco-friendliness, according to Amcor's research. Respondents were shown such a packaging solution, and some are said to have considered it a more attractive and premium option than plastic alternatives.
"It is apparent that hard cheese consumers want to recycle more and have a positive perception of paper packaging," Jiang continues. "Hard cheese brands should take note of this research because it identifies the need to design packaging that is easier to recycle with simple and clear recycling instructions on the pack. There is an opportunity to explore paper options and enhance the quality and sustainability profile of their brand."
Another research project conducted by the University of Reading and its partners surveyed Polish and Spanish consumers and suggested that a lack of knowledge about food packaging was hindering its successful recycling at end of life. Furthermore, 40% of American consumers do not appropriately recycle their pizza boxes, according to a recent DS Smith survey.
Packaging Europe also spoke to Edward Holden, vice president of Business Development at Equator Design, about the steps brands can take to ensure that their packaging meets consumers' expectations of eco-friendliness as well as their own sustainability claims.