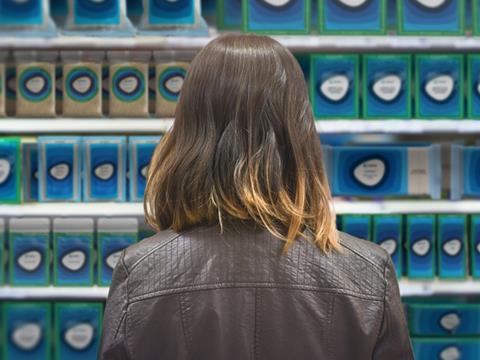 Consumers are turning to private label products due to the sustainability claims on their packaging, according to a new study by Amcor – with price, minimized packaging, and locally sourced, 'cleaner' ingredients also identified as reasons to buy.
Over 3,000 consumers in the UK, France, Germany, Italy, Poland, and the Netherlands responded to the survey. 70% of them reported that they regularly buy private label products from grocery shops, while 50% of consumers who choose to purchase private labels due to their cost expressed enough satisfaction in the products' quality to continue buying them.
As the cost of living increases, the report suggests that 85% of consumers emphasised price as the reason behind purchasing a private label item. 48% said that promotions drove their decision to buy, while the top three factors that defined product quality amongst respondents were 'better taste', 'local production', and 'cleaner ingredients'.
"While the research confirms that the price of private-label items impacts grocery shoppers' purchasing decisions in the current economic climate, quality is still a crucial factor influencing consumers' buying journey," explained Madalina Mitru, Strategic Marketing & Value Chain manager at Amcor. "Taste, quality, and origin are all still important when consumers are making purchasing decisions.
"Furthermore, over half of European consumers (51%) said they perceive no difference in the quality of private-label products versus branded ones, putting private-label brands in a strong position for the future."
Sustainability commitments were also revealed as an important factor. 42% of consumers observed that retailers have made progress when it comes to local production, and 34% took note of efforts to reduce food waste, cut down on excessive packaging, and increase sustainability-minded packaging designs.
Even so, 35% called for more progress in eliminating unnecessary packaging, and 33% felt that retailers could still do more to implement more sustainable solutions. 'Less packaging', 'less plastic', 'recyclable packaging', and 'paper packaging' were identified as the most popular sustainability claims private label products could make to convince consumers to buy them.
28% of respondents added that 'more sustainable packaging' was a direct influence on their decision to choose private label products – leading Amcor to highlight it as a key influence lever for retailers. At a respective 48% and 40%, 'promotions' and 'cleaner ingredients' also proved to be motivating factors.
"We see a growing shift towards eco-conscious grocery shopping for both private-label and branded products," added Mitru. "Consumers increasingly expect their preferred products to demonstrate how they are improving sustainability. Retailers and brands can adopt more sustainable packaging to help retain customers and demonstrate their continued commitment to driving circularity and reducing their carbon footprint."
Another Amcor study saw 52% of European consumers state that the impact of packaging on global warming is influencing their purchasing decisions, and 84% said that they read written instructions for recycling before buying a packaged product.
Additionally, a joint study between McKinsey and NielsenIQ implied that making multiple ESG-related claims on product packaging can lead to an uptake in sales.