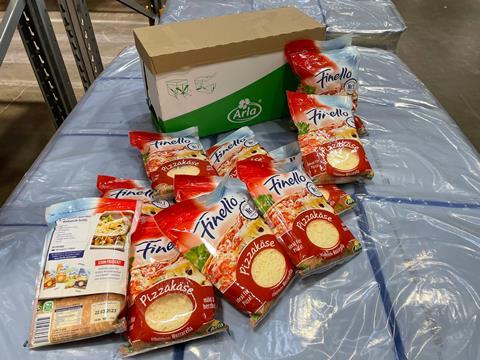 SÜDPACK is working with Arla Foods to chemically recycle maturing bags for mozzarella cheese, developing a circular business model that aims to lessen fossil feedstock consumption and reduce its CO2 footprint.
Maturing bags are an essential facet of the preparation process for mozzarella, with the cheese being left to mature inside them for around two weeks. These bags must be multi-layered to ensure food safety, but this means that they cannot be recycled through mechanical processes – as such, they are traditionally incinerated at end of life.
The new business model aims to keep plastic in the loop and create new packaging by chemically recycling the bags after each use. Currently, SÜDPACK and Arla are carrying out a large-scale test to chemically recycle 80 tonnes of the latter's Rødkærsbro-based dairy plastic into new packaging, after which they will evaluate their progress and consider their next steps.
Overall carbon emissions are thought to be reduced when considering the loss of electricity and thermal energy caused by incineration and the exportation of plastic films, and the full processing of plastic waste per tonne including the chemical recycling process is said to be 50% lower.
By combining mechanical and chemical recycling, SÜDPACK believes that multi-layered, contaminated, and mixed plastics that cannot be recycled in mechanical processes alone can be dealt with in an ecologically and economically viable way. While easily separable plastic fractions can be sorted using a sensor and recycled through a mechanical process, material fractions can be chemically processed into virgin materials.
"Instead of sending our plastic films to incineration, resulting in a one-off energy gain, we recycle them and use the recycled material to create new packaging thus reducing the carbon footprint as well as the need for virgin fossil feedstock," says Grane Maaløe, Lead Packaging Development Manager at Arla Foods. "It might sound obvious but in the complex world of recycling this is an exciting step in our journey towards fully circular packaging."
"Utilising the processing capabilities at Carboliq, our chemical recycling plant in Germany, we can ensure that the films produced for Arla's cheese maturing purposes does not exit the loop but instead is recycled into new packaging," adds Dirk Hardow from SÜDPACK. "One tonne of mixed plastic does not equal one tonne of new packaging, but it does reduce the need for fossil feedstock and it paves the way for increased investing in this infrastructure going forward."
Research by Amcor has suggested that 22% of European consumers value recyclability in their cheese packaging, although some reported that they found it inconvenient or impossible to recycle the solutions at end of life.
Meanwhile, the GO ORLEANS project has apparently been successful in converting whey, a pollutive by-product from the cheese industry, into new active packaging. This solution is thought to extend the shelf life of the cheese it packages by five to ten days.
If you liked this article, you might also enjoy:
McDonald's Director of Sustainability in Europe on the company's approach to packaging sustainability
McKinsey on whether or not on-pack sustainability claims affect consumer spending
Perspectives from industry-leading experts on the EU's Packaging and Packaging Waste Directive revisions
A deep dive into the most important packaging sustainability trends and solutions