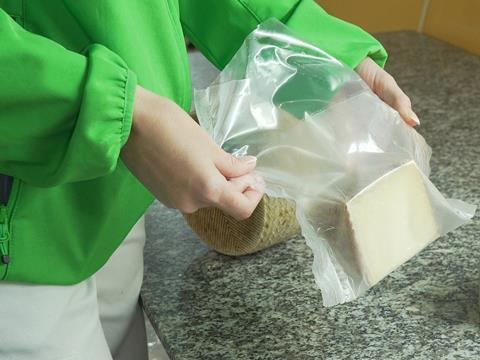 The GO ORLEANS research project has reportedly facilitated the use of whey in an active packaging solution to extend the shelf life of cheese by five to ten days and cut down on a pollutive by-product of cheese manufacture.
The Agri-Food Business Federation of the Valencian Community (FEDACOVA), AIMPLAS, the Plastics Technology Centre, the Universitat de València, ADM Biópolis, and cheesemakers Dehesa Dos Hermanas and La Cabezuela have collaboratively implemented whey – a by-product of cheese production – into a new form of active packaging that is said to exhibit antifungal properties, thus extending its shelf life while preventing industrial waste.
According to the companies, Madrid-based La Cabezuela and Huelva-based Dehesa Dos Hermanas supplied the whey, from which the Universitat de València identified and selected the antifungal strains to obtain bioactive ingredients via fermentation. Meanwhile, ADM Biopolis determined the probiotic capacity of the active components sourced from the whey.
AIMPLAS produced an active coating that is apparently capable of extending the shelf life of cheese by between 25% and 50%, with conventional printing technologies applying the coating to packaging. The cheesemakers also selected the cheeses and validated the new packaging, which aims to combat food waste and promote both competitiveness and innovation in the cheese and dairy industries.
At its current production quantities, whey can cause environmental issues due to its high organic load. The GO ORLEANS project has been reusing the by-product from small medium-sized cheese companies to negate this impact through the production of new packaging, as well as providing probiotic additives derived from the whey for livestock feed to contribute towards animal welfare.
The natural active packaging solution is also expected to enable the marketing of healthier products, with synthetic preservatives no longer being required when it is packaged in a protective material. This extended shelf life hopes to open up new business opportunities amongst customers in more remote regions.
When the GO ORLEANS project announced its intent to create cheese packaging from whey last summer, it cited figures reported by the Food and Agriculture Organisation of the United Nations (FAO) that an annual 180 million litres of whey is generated from over 18 million tonnes of cheese produced worldwide. Its focus on small and medium-sized businesses stemmed from concern that such companies would not be able to afford the necessary infrastructure to effectively recover their by-products.
The development follows new research from Amcor suggesting that European consumers value transparency and effective sealing in their hard cheese packaging, yet report the inconvenience or even impossibility of recycling such packaging at end-of-life.