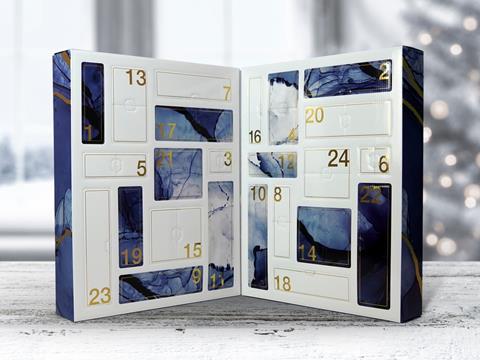 STI Group has developed a series of fibre-based advent calendars for Unilever's Dove and Axe brands, including a novelty 'advent candle' design, a customisable calendar, and an alternative option for year-round usage.
The line-up reportedly features seven standardised calendars based on four designs, all said to utilise FSC-certified materials instead of plastics – for which reason STI Group claims them to be '100% recyclable'. One calendar, set to contain a small product for each day of Advent, utilises a paper fibre inlay produced by PAPACKS to replace the industry-standard plastic tray.
The 'advent candle' package, on the other hand, is a smaller-scale calendar intended to contain four larger products for each Sunday leading up to Christmas. When a window is opened, its 'lit' flame design emerges.
Another design features a printed slipcase, internal doors, and a 'natural' finish, yet is marketed as a calendar to be used for any occasion throughout the year. Its flexible insert is designed to hold seven products and provide the recipient with a week's worth of gifts.
Consumers can also choose a do-it-yourself option, in which they can apparently utilise twenty-four mini gift bags, 'simple' closures, and various matching 'for him' and 'for her' products to create a personalised advent calendar.
Fazer has released its own advent calendar made from Metsä Board's dispersion-coated paperboard, which is thought to reduce 1200kg of plastic per year compared to its previous, PE-coated design.
DS Smith and Glenhaze previously supported the creation of BrewDog's 2020 advent calendars, with DS Smith printing visuals and messages onto the calendar to promote the company's goals of carbon negativity.